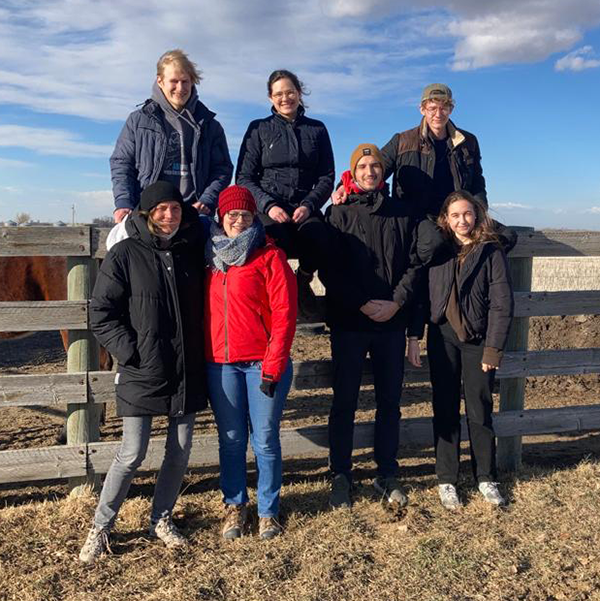 May 26th

Coping with Covid
Challenges of a Voluntary Service Unit
The Mennonite Voluntary Service Adventure handbook has no protocol for navigating a global pandemic. And yet, that is the challenge for volunteers and committees in 2020-2021. A challenge for which there is no road map!
Voluntary Service units, originally called Service Adventure, have been part of the life and ministry of Lethbridge Mennonite Church since 1998. One to six young adults, mostly from Germany and France, live together as a unit, working as volunteers in social service positions.
Six "VSers" make up this year's unit. Gabi Fortner and Maj Britt Becker are with L'arche Lethbridge, an organization providing homes for people with disabilities. Johannes Roesch and Hannah Schacher with Peak Vocational & Support Services, a day program also for people with disabilities. Evelyn Bechtold with Ability Resource Centre — another day program, and Noah Sommer at the Mennonite Central Committee Thrift Store. Johannes' work schedule didn't allow for him to join the zoom conversation.
Most volunteers connect with the program via sending organizations in Europe. Christliche Dienste and Eirene in Germany. And, Joie et Vie in France. Often interest is spurred by previous volunteers sharing VS adventure stories.
In a recent conversation, exploring how Covid-19 had impacted their experience, the five VSers who joined the zoom call were clear that they had applied to prior to Covid and that their organizations gave them numerous opportunities to opt out — but they were determined to try. As their arrival times were staggered, they did their 14 day quarantines in different places — some in the unit house, one in a committee member's home. Sommer arrived and quarantined a month before the others.
The German volunteers agreed that the hardest part was arriving at the airport and being sent home for 7 days to wait for the Canadian Embassy in Vienna to give them clearance. As they waited, their faith was challenged but they believed that God was in control and that there would be a Plan B.
A key question of our conversation was how had Covid impacted their volunteer work. All but Sommer work with people with disabilities. All reported that activities had been curtailed from what they've been told was normal. Usually volunteers take day program participants on outings and help organize enjoyable activities. Outings have been severely limited this year. Instead the focus has been on safety protocols. And, as day programs emphasize learning life skills, participants who are usually included in cleaning tasks are not allowed to do so this year. Therefore staff, even volunteer staff, have to do it all. Sommer reported a positive attitude in his workplace, the MCC Thrift Store, in spite of heath restrictions.
In spite of Covid, there have been opportunities to be creative and even to experience joy. Schacher mentioned spontaneous dance parties at her workplace rather than organized dances. Transportation is also more complicated for organizations that use 15-person vans. Cases in their workplace have resulted in quarantines but not shutdowns. Some of the participants in their day programs have been close contacts. One participant, according to Bechtold, has been in isolation 5 times, each time returning for mere days.
Fortner and Becker, who work in separate L'arche homes, wish there could be interaction between the three L'arche homes, as had been the norm prior to Covid. L'arche weekly prayer nights and assistants meetings are now all virtual. Potlucks have been suspended indefinitely. However, there is hope on the horizon. Some of the participants/core members, assistants and workers have had one vaccine and they hope that as vaccines roll out, restrictions can be lifted before the end of the VS term.
The volunteers lamented that unit activity options, such as swimming and the gym, have not been possible. They all expressed appreciation for unit life and outdoor visits with friends from Lethbridge Mennonite church. Within the house they never have to be alone, there is always someone to talk to. They have grown closer, getting to know each other at a deeper level, as their options for outside socializing has been limited. A coping strategy is to simply not think about what was before, what other units got to do and experience, and appreciate life day-to-day.

Addendum:
Since this conversation, members of the unit have been identified as close contacts of individuals who tested positive for COVID-19 and although they tested negative and and had no symptoms they were required to isolate in a section of the VS house that is separate from the rest of the house. The Lethbridge Mennonite Prayer chain has asked for prayers for good health and peace while isolating as well as prayers for the rest of the household that they can be supportive during this challenge.