An "A-peeling" Camp Valaqua Volunteer
August 18th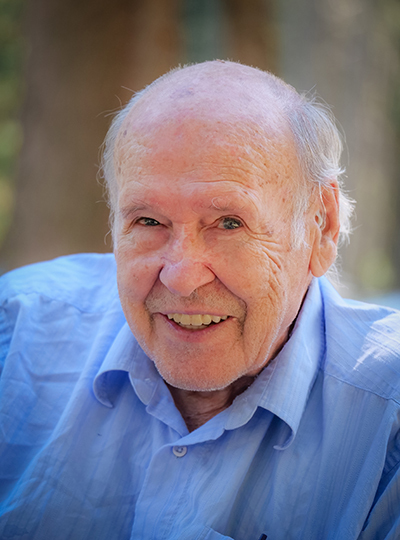 Article and photos by Ruth Bergen Braun, MCA Communications
Rudy Wiens, 88, a member of Foothills Mennonite in Calgary, volunteers as kitchen help at Camp Valaqua for two months each summer and has done so since 2015. He jokingly describes his work there as "a-peeling" as in "I'm a-peeling cucumbers, carrots, and potatoes." Helen Schellenberg, head cook July 2021, describes Rudy as "the heart of the kitchen, someone who starts each day bright and early with a great big smile and a hearty "Good Morning!"
Prior to 2015, from the late 70s on, he and his wife Anne volunteered for one week each summer. After his wife's death in 2014, Jon Olfert, Camp Valaqua's director, asked him to return but Rudy hesitated, arguing that he was too old. Finally he agreed, saying that if at any time he wasn't an asset he would go home, no offence taken. He did not want to be a liability. Six years later, he still hasn't been told to go. Rudy hopes to volunteer until he's 90, two more years. Surely then he'll be too old.
Rudy described his his relationship with the kids as his greatest joy. He knew, after his second year, that he was making a connection when he walked in to the lodge and heard "there's Rudy!" Parents also greeted him with "so you're Rudy." These were all the affirmations he needed. He had value.
Although this summer of navigating COVID-19 precautions has gone smoothly, Rudy misses the meal time line ups. He hasn't been able to get to know the kids as he has in the past. This summer counsellors collect meals in bins and take them to their cabins to eat outdoors at picnic tables, family style.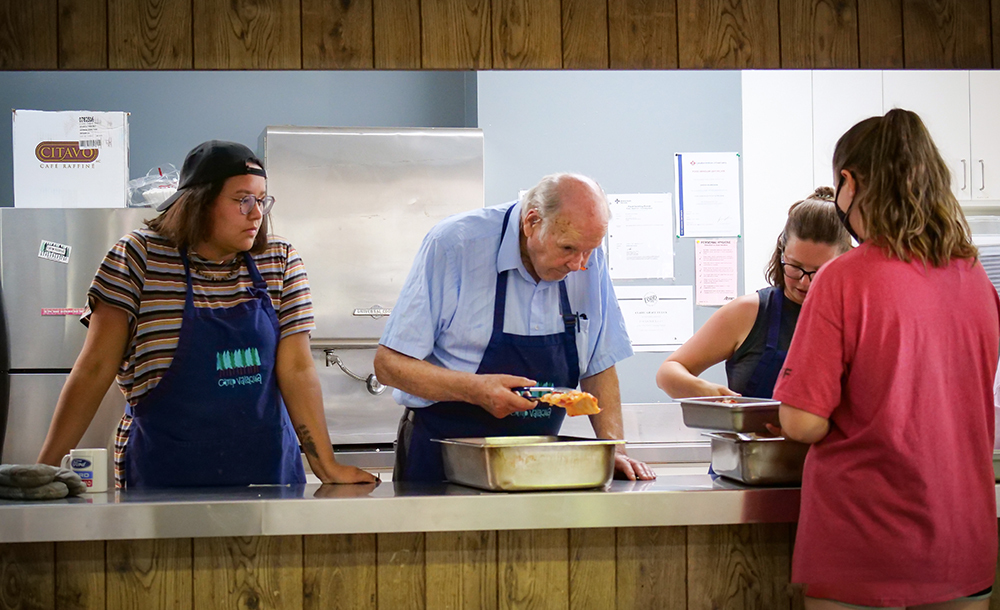 Rudy also relates well with the teen and young adult counsellors and staff. Recently he joked with the Pit Crew doing dishes that if they added all their ages, they wouldn't add up to his age. And he was right! When asked what helps him connect, he replied that it must be his humour, particularly his sarcasm. Olfert agrees saying "Rudy has a sense of play and mischief that is both inspiring and challenging. He is one of Valaqua's biggest supporters but also pushes us to be better whenever he sees room for improvement. There is always a twinkle in his eye!" Schellenberg agrees "He is generous with his time, his stories, and his helpings in the dinner line! Rudy's mischievous smile and steady presence are a great source of strength for everyone around him. I count myself lucky to have worked with him, and to call him my friend."
Rudy's life has taken him and his family from Herschel to Prince Albert, both in Saskatchewan, to Coutts, Alberta and finally to Calgary in 1972. His describes himself as very loyal to Mennonite Church Alberta and Mennonite Church Canada, and his home church, Foothills Mennonite. But, he admits, he is particularly committed to Camp Valaqua, a place where kids build relationships and are not just entertained. Valaqua is where they learn to appreciate the outdoors, and where Camp staff learn leadership skills. He praises Jon Olfert, Camp Valaqua's director, for how he skillfully nurtures leadership in his young staff.
Darrell Krahn, also a member of Foothills Mennonite, has volunteered one week out of the summer every year for the past seven years or so. He has observed Rudy working harder than most 20 year olds, mopping the floor, washing the linens, cutting vegetables and serving food. "I watch and marvel at his energy, at his determination to get a pot clean even though most would have given up. Rudy truly emulates service to God." Krahn describes Rudy as Camp Valaqua's "incredible blessing, a jewel, an encouragement to keep going."
And that he is.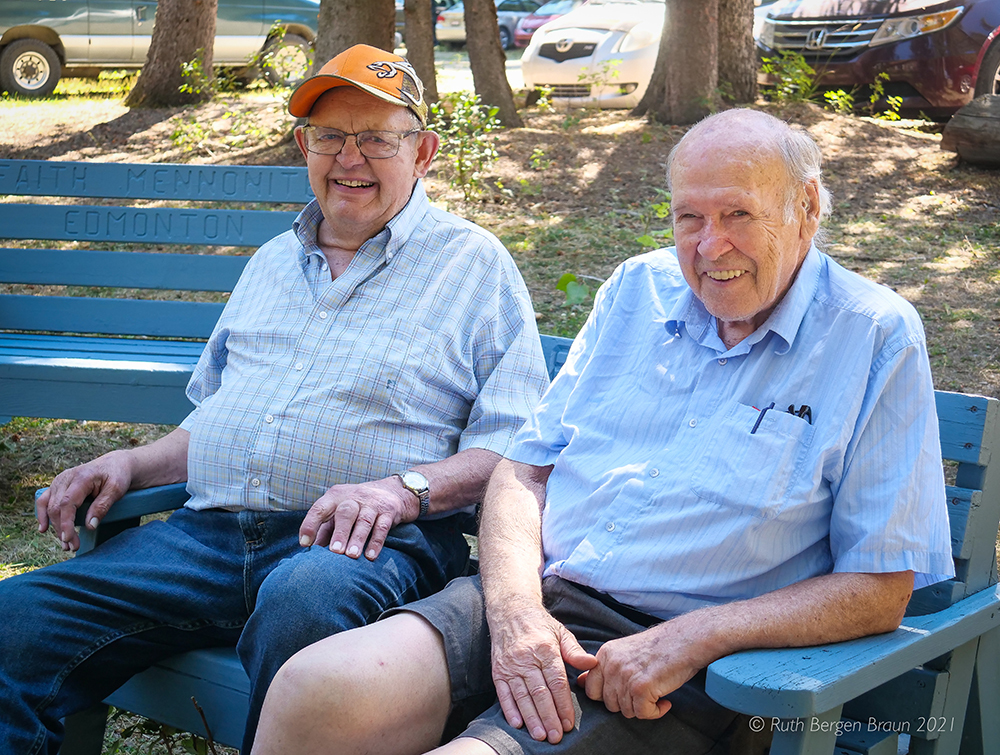 Rudy relaxing with Ron Janzen, celebrating Ron's freshly painted benches.