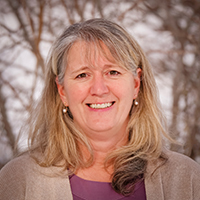 January 5th

Hope:  What a beautiful thing to observe!

The last month of 2021 was filled with connections with family and friends through Christmas cards, letters and photos, spontaneous video chats and a family corny joke challenge that brightened each day. Throughout December and now into the new year, social media friends have been sharing numerous spiritual insights and words of inspiration.

I don't know if this year-end pattern reflects people's own need for encouragement to make it through these cold winter days and consecutive pandemic waves, or if it's a sign that deep within our beings, we are more optimistic and joyful than we might think. (Or, perhaps, it reflects that I'm surrounded by very positive networks!)

I welcome these connections, smiles and encouraging words as an antidote to the daily news. I welcome them as a reminder that, in spite of all the discouraging messages around us, there are celebrations to be shared and joy to be found, and that each new day brings hope.

I'm reminded of the numerous "you become what you surround yourself with" adages that are meant to inspire and transform. And I think about God's people. Specifically, I think of the variety of ways that people are immersing themselves in and reflecting one of the core aspects of God's nature: hope. What a beautiful thing to observe!

2022 didn't begin with any grand resolutions for me, but I did start my own little "something new for the new year." I'm attempting my first winter garden and calling it my Garden of Hope. The first seeds have just sprouted and over the next few months I'm looking forward to waiting, watching, and watering. My little garden has become a "prayer pause" each time I pass by it, reminding me of God's people, God's hope and God's joy!