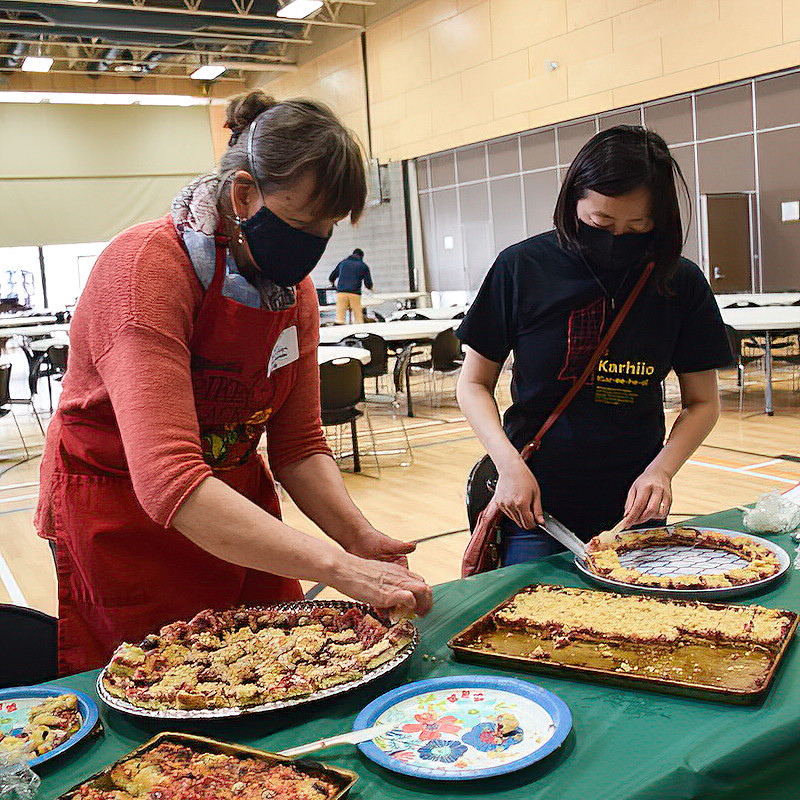 May 4th

Joy, Abundance -- and Cookies!

When my friend Azkaa contacted me about the possibility of an interfaith community Iftar in the heart of downtown Edmonton, where Mennonites would contribute "Mennonite Cookies" to the community kitchen event to prepare food for 300 people, I hesitated briefly. I hesitated because I, like everyone I shared this opportunity with, thought "what makes someone a Mennonite? and what is a Mennonite cookie?" But before answering those thorny questions, I decided to trust the Holy Spirit to shape this opportunity-- and said "Yes" to Azkaa.

The journey that brought us to the final plan included conversations with fellow Mennos of all kinds as well as planning meetings with the Muslim organizers.

My fellow Mennos gave me all sorts of thoughts. "I didn't grow up Mennonite, so how can I offer a Mennonite cookie recipe?" said one, who regularly makes chocolate chip oatmeal cookies from the "More With Less Cookbook." How much more Mennonite can you get? -- I thought. Ammonia cookies, jam-jams, Pfeffernuesse (peppernuts), Portzelky(New Years fritters) were all thrown out as options.

Our community planning meetings were wonderful. The two lead organizations-- Tarjuma and the Islamic Family Social Services Association -- rooted the planning in faith and diversity. We opened with prayer, and I was invited to pray on one occasion.

In these meetings, we landed on a two-hour time slot to make cookies for 300 people. This time constraint led to the idea of combining pre-made Platz with cookies made in community. Five Platz-makers contributed Platz with a beautiful array of fruit diversity. The story Who's Cooking: Annaliese's story, in the book Mennonite Girls Can Cook, which talked about Faspa or "Hospitality Sunday," worked well to explain the Russian Mennonite love of Platz. For a recipe see http://www.mennonitegirlscancook.ca/2016/07/platz.html

For the cookies, I decided to honour my Swiss Mennonite tradition and offer Snickerdoodles -- an Amish-Mennonite cookie that had its start in my home state of Indiana. John and Eleanore Woollard perfected recipes of oatmeal raisin and ginger snap cookies. For the baking day, I put out a call to all the Edmonton Mennonite Churches as well as my Muslim friends. In addition to John and Eleanore, three stepped forward from the Mennonite churches, some born into the tradition, others who joined by conviction. Two visitors from Winnipeg joined, and three Muslims cautiously joined. It didn't take long for everyone to claim a role and relax into good community banter.

With a look of awe and amazement, one of the organizers commented on how well greased our operation was! It was indeed gratifying to have people who could step in and get it done, including thorough clean-up! We have evolved a particular style of organizing that served us well!

My favourite comment, though was from my Muslim friend Romana. She said the experience reminded her of the concept of "Baraka" or the blessings of multiplying. From the lifeless lumps of dough, with hands and hearts working together, we made a remarkable cookie bar that served the Muslim community and beyond -- a loaves and fishes story of abundance and joy, created in community!