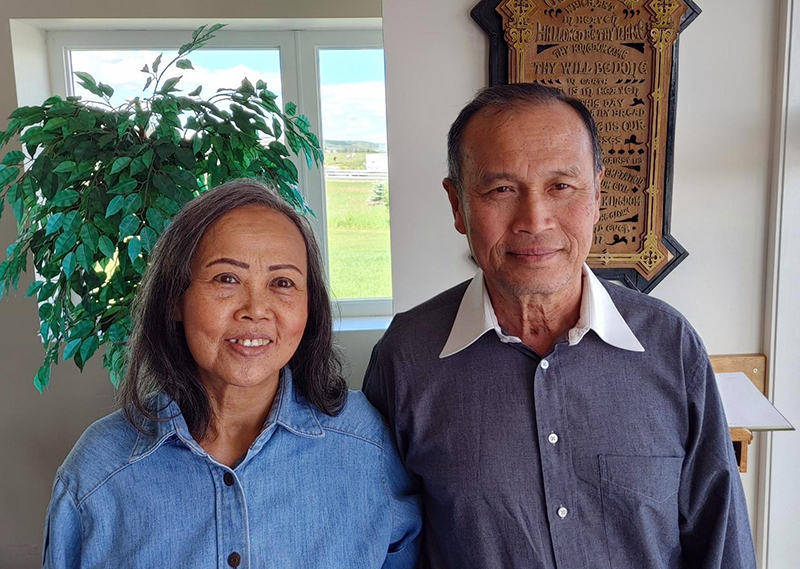 July 18th

God has kept me alive for a Purpose

"Pray for me – If God wants to use me here, or if God wants to take me home."




It's November 10, 2021. These are the last words Paul Phomsouvanh's wife, Vila, hears as Paul slips into a world of unconsciousness that will last for more than 40 days and 40 nights. Vila's life slips into a world of severe testing of her strong steady faith. This is Paul's last memory before waking up on Christmas Day.

"There's no chance! There's no medication that can help him," are the doctor's chilling words. For weeks the medical profession's best resources have been used in an effort to save Paul's life. Where is the hope in such a tragic progression of events?

Just over two weeks earlier, on October 24, 2021, Hugo is the worship leader at Trinity Mennonite Church, De Winton, Alberta (South Calgary). In the service Paul shares his excitement about the online Bible studies he has begun, with up to 150 people participating. These are Lao and Thai friends living in their home countries, plus many scattered around the world: Australia, New Zealand, Germany, Austria, United States. Vila, supplements with online studies especially for women. For years this couple, who make Trinity Mennonite Church their home, travelled back to Thailand and Laos to work in what they call discipleship ministry, often relying primarily on their own financial resources.

One can only imagine the heart-wrenching time this is for Vila, who herself contracts a much lighter case of COVID during this time. Unable to communicate with her husband, who now remembers nothing of this comatose-time, her deep faith in God does not falter. "God, I won't give up on you! Show me your grace!" she cries in her pain.

The doctors soon present her with the bad news: "Paul has a severe case of COVID, together with the additional life-threatening complications of pneumonia and E Coli. His body is beginning to shut down." They show her the X-Rays: "See his lungs, they are all blackened. Other crucial organs are damaged too. It's only the ventilator that is keeping him alive. Even if he would survive, he would not be able to walk, his brain, his kidneys, his heart, and his liver would not be able to function." All the doctors and the medical staff are courteous and professional. Yes, they will give her time to make the decision to take him off life-support.

Vila, in shock, but empowered, takes a picture of Paul and sends it to family and acquaintances, including her Laotian and Thai friends all over the world. As we view the photo of Paul's pale and colourless face, showing not a hint of vitality, we can hardly keep ourselves from being overcome by a sense of hopelessness. People from all over the world are praying for a miracle. Eight thousand see the disheartening photo: there is a strong movement toward fervent prayer.

A few days later the doctors again lay out the reality. "Do you love him? How can you allow him to keep on suffering?" one doctor urges. Vila reminds the medical staff, "But the whole world is praying for a miracle! God will act!" Pastor Will Loewen from Trinity, who has been walking very closely with Vila through this crisis, supports Vila by cautioning the doctors to give her more time. They comply.

Vila is resigned to God's will. Later she explains: "It's like 2 sides of a coin. On the one hand, does God want to use Paul to continue his witness for God's glory? On the other side, if God wants to take him home, it's okay with me. I want to let people know that both sides of the coin are for God's glory. "We can't put God in a box. God is sovereign."

For the 3rd time Vila is called in for consultation. The doctors try to convince her, "Your family doesn't understand. Do you not see how he is suffering?" Again they ask Vila to give permission to remove life support. Villa's witness is strong: "If God wants to take him, God will do it. If he wants to perform a miracle he will also do it. It's up to God to decide; not humans. Villa prays, "You are sovereign Lord, show them a miracle."

And the miracle begins to unfold: We are at church the day after Christmas when one of our Laotian friends, excitedly whispers to us, "Paul opened his eyes yesterday, just a wee bit." We are skeptical, "What does this mean, if anything?" The next day the message is, "He moved his head." With no visible signs of life for weeks, something is unquestionably happening.

The doctors are cautious: "There definitely is some serious organ damage." Vila's faith remains strong: "If God is going to raise him up, God will do it in such a way that he can carry on his mission. Why would God raise him up for nothing?"

By the 3rd day staff are able to get him into a wheelchair and push him down the hall. He still cannot speak, eat, or drink. Everything has to be relearned. Gentle physiotherapy begins immediately. In one week he starts walking; in three weeks he is home. Tests show his lungs and liver are miraculously healing. Doctors call him "the miracle man." At church we hear weekly progress reports until we finally meet God's miracle man in person. We celebrate and give thanks to God.

Recently Paul has returned from what was to be a 2-week road trip, a "missionary journey" to BC to share his miraculous recovery. Interest in his story grows. It turns into a 4-week trip. He shares, "My spirit already went up when I was still in the coma. I heard the voice of God say, 'My child, you have a lot of work to do!'" Vila adds, "I'm so happy! I could just jump up and down!" Paul and Vila strongly agree: regardless of what humans can do, the true power is in God's hands. God is Sovereign!"



Doreen and Hugo Neufeld in conversation with Paul and Vila Phomsouvanh,
at their home in Okotoks, Alberta (just south of Calgary), July 6, 2022.