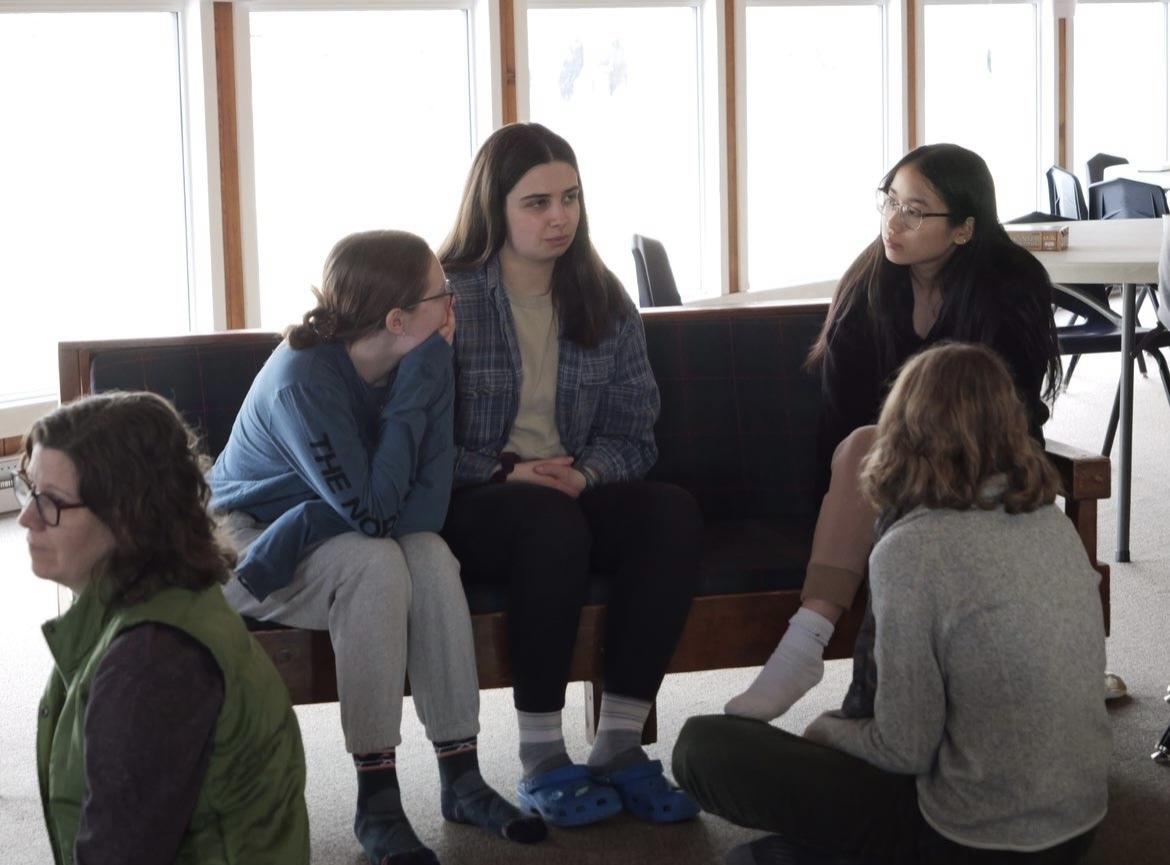 May 3rd

Reflections on the LIVING HOPE Climate Conversation

Liesel Retzlaff

I was fortunate to get the opportunity to fly to Winnipeg and join people across the country and meet at Living Hope. We gathered all together at Camp Assiniboia and took the opportunity to learn about climate action in the church and what other opportunities we could take moving forward. I had previously had the opportunity to meet with a group from across Mennonite Church Canada on Zoom to talk about Creation Care and the climate so I was super excited to explore and learn more about the climate action in the church.

For the 39 hours I was in Winnipeg I learned so many things. We listened to people share stories of hope, created art and gathered in worship together daily. Different groups like MCC and A Rocha came in to educate us on being mindful to the environment and learning to take immediate action. They had interactive activities for us to act and learn for different perspectives. I took so much away from what they presented on and learned how much I could do just an an individual to help out. Doing things like educating yourself, living simply, and doing simple things like compost all make a difference. It was crazy to me about how much the church was involved. I had absolutely no idea that all the different provinces had climate working groups within the church but Alberta. This really opened my eyes and made me want to continue learning so I could come back and share will everyone from Alberta how important everything was!!

I left the conference with so many more questions and wanting to learn so much more. Every conversation we had was so meaningful and left me reaching for more and more. The main conversation that really stuck with me was with Nate De Avila. He talk about consumerism and how big of a impact that left on climate change. People always want bigger and better thing's leaving so many items to be throw away or unsure making them unnecessary. We also touched on food waste and how much just gets throw away and unused. Both these things have such a huge impact on our planet. Being more mindful on what you actually need vs what you want is a great was to limit the items you are buying leaving less impact on the planet. The conversation made me slightly angry because I knew I could have done better and was actively creating waste regularly with buying things that are unnecessary.

And then we had a party!! On Saturday we celebrated Earth Day all together! Man oh man, do Winnipeg Mennonites know how to party. We had a dance party and had classic faspa, it was amazing. I have never felt to connection to all my fellow Mennonites!! Big shout out to Kathy G she really was the life of the party.

I want to thank Mennonite Church Alberta who sent me to the conference and also Mennonite Church Manitoba for putting it all together!!

Charlene Lauzier

The Living Hope Climate Conference was an amazing opportunity to learn about climate, God, and how we can all make a difference in the world. It was hosted by Mennonite Church Manitoba at Camp Assiniboia where we had fun learning and exploring a new summer camp. The people and the beautiful location made me feel like I was just at home at Camp Valaqua.

While at the conference we engaged in discussions with like minded people on how we can all work towards creation care. We shared times of worship, art, conversation, laughter, dancing and so much more. We were able to share words of hope and despair around our own personal feelings toward climate change. My journey of working with climate change had been at a stand still this last year as many of the individuals I interact with hold different values. Coming to Living Hope I was able to find peace in sharing my goals and hopes for God's creation with others who were determined to work towards the same things. We created word art pieces that showed our feelings towards the devastating affects of climate change on our earth. This piece we hope to move around to different churches sharing the realities and the truth of the impact that our changing climate is having on people, animals and nature. Moving forward from this weekend I hope to continue to find small ways to start conversations and create changes in my life to better care and love the earth God has provided for us. The Alberta crew at the conference discussed creating a climate working group for Alberta. We currently do not have one and all want to work with our churches, friends and family to bring education around climate and creation to make a difference.

After the Living Hope conference Liesel and I headed out to Paradise California to serve for Mennonite Disaster Service. This is a wonderful story but saddened me in our reason for going was due to massive fires that likely were linked to the effects of climate change. I also wanted to touch on the recycling situation I learned about. They have garbage, recycling and compost bins that are all brought to the same landfill. Our project manager tried to recycle the waste we create while working on building the houses and was informed by the city that the only location he could visit was the dump near Paradise. This broke my heart to hear that cities are giving people false hope and information around their recycling practices.

The conference has opened my eyes to working towards things like this back in Calgary. I hope to continue discovering and learning alongside the peoples that held this land before us about gods creation and how we need to be caring for it.

Thank you to Mennonite Church Alberta and Manitoba for the opportunity to learn and grow in God's creation and for putting it all together!