Food, Glorious Food
July 5th
When asked if cooking at Camp Valaqua was ministry, many of those who did so, particularly in the early years, considered their contribution as just doing a job that needed to be done. Campers and staff needed to eat and someone needed to feed them. And yet, the ministry of Camp Valaqua could not have been possible without food. Lots of food!
Camp Valaqua food has never been the gruel served up to orphans in the 1968 musical Oliver (based on Oliver Twist, the novel by Charles Dickens) inspiring the title above, but food certainly has always been part of the camp experience. Favourite meals and desserts like Camp Valaqua Special, taco salad, wiener roasts by the river, "worms in dirt" a pudding dessert, s'mores and pie irons on overnight campouts flavour many Camp memories. Hungry campers and staff spending days outdoors relish and quickly consume whatever the cooks prepare!
Today Camp Valaqua has a large, well-stocked and outfitted kitchen, with both a walk-in fridge and freezer but that was not the case when Ella Paetkau Bergen, Mildred Wiens, Laura Friesen, and the late Helen Klassen cooked for the first campers in 1960. These young cooks, Wiens thought she was 22 years old, slept in tents, bathed in the river, and did all their work outdoors. Bergen recalled that they had no refrigeration but stored their food in a tent. She has no memories of anyone getting sick or even complaining. Certainly there were no Food Safe courses or regulations! Four cookstoves were lit each morning by the chaplain. These, protected from the rain with a tarp, were their workstations. To be fair, according to Bergen, there weren't a lot of campers in those early days. Wiens remembers campers eating at two picnic tables.
That year, groceries were purchased daily at the Water Valley store. What the store had in stock became the menu for the day. Wiens remembers the canned meat – Prem or Spam — and doesn't recall attempting any baking using their cookstoves. Potatoes were a staple through the years.
Although Camp has had male cooks, including a head cook and the ever-helpful Rudy Wiens, Frieda Dick recalls that cooking was the primary role for women because "everyone eats." She stated that in later years, such as when she and her husband Henry (Hank), volunteered, men began to help in the kitchen. They then realized how much work it really was! Kitchen staff put in long days – up early for breakfast, short breaks but then lunch prep, dinner prep, and finally snack prep.

The camp kitchen has also reflected the stereotypes of the times. Joyce (Braul) Baerg, of Rosemary, recalls being a 15-year-old counsellor, in the late 1960s, when together with another girl her age, she was recruited to be head cook for Boys Camp. The assumption was they were female and thus must have the cooking skills to feed a crowd. She recalls that they "did pretty good" and credits this experience with giving her the confidence to genuinely learn to cook for a crowd.
In the early years of Camp Valaqua, campers had gratis as part of their daily activities. Gratis was like chores at home but more bearable because you did it with your friends. Campers peeled potatoes, washed and dried dishes and completed other mundane tasks as part of their camp experience. Snapping dishtowels made drying dishes fun.
A favourite camp meal, from the Russian Mennonite tradition, was rollkuchen and watermelon. The cooks would roll out great sheets of dough, deep fry it, and then serve it picnic style, taking it out to the field to eat. Campers enjoyed this treat — even if it wasn't part of their own tradition.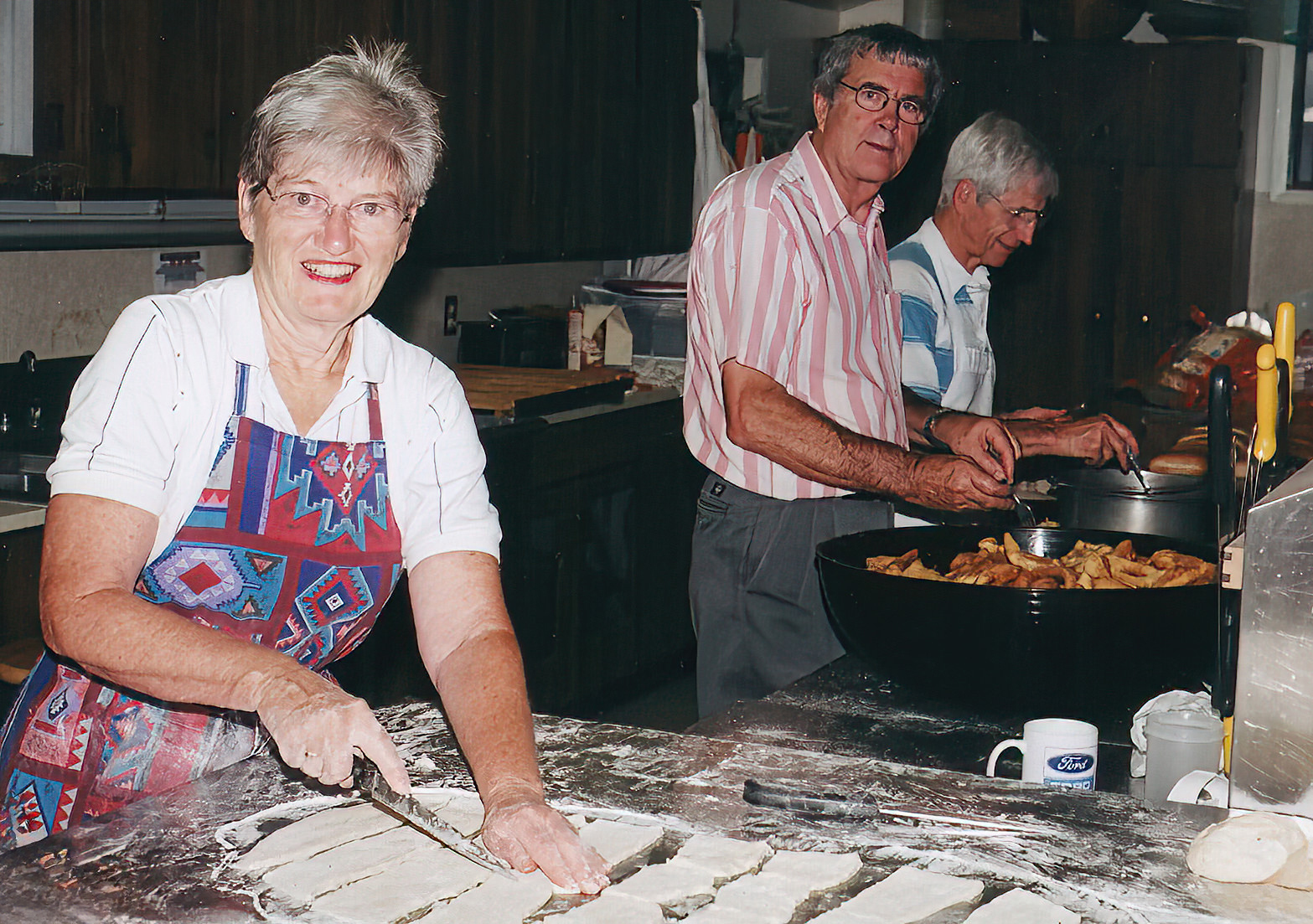 Rha Friesen, Henry Dick, and Bruno Friesen making rollkuchen
Cooking at camp was not without humour. Rha Friesen recalls having a summer-long volunteer, an international student at Canadian Mennonite Bible College (CMBC), offer to cook an Indian dish, food representing his home country. The cooks assumed he was experienced in making, what by her description were likely samosas, but he confessed later that he had never made them before. The end result wasn't particularly edible, and the leftovers were buried somewhere on camp property. And no one remembers where!
Reflecting back on all the hands that have stirred, peeled, chopped, and served food in and from the Camp Valaqua kitchen the term ministry most definitely applies. Thank you to those who have kept staff and campers well fed throughout the years! And thanks to those who continue to do so.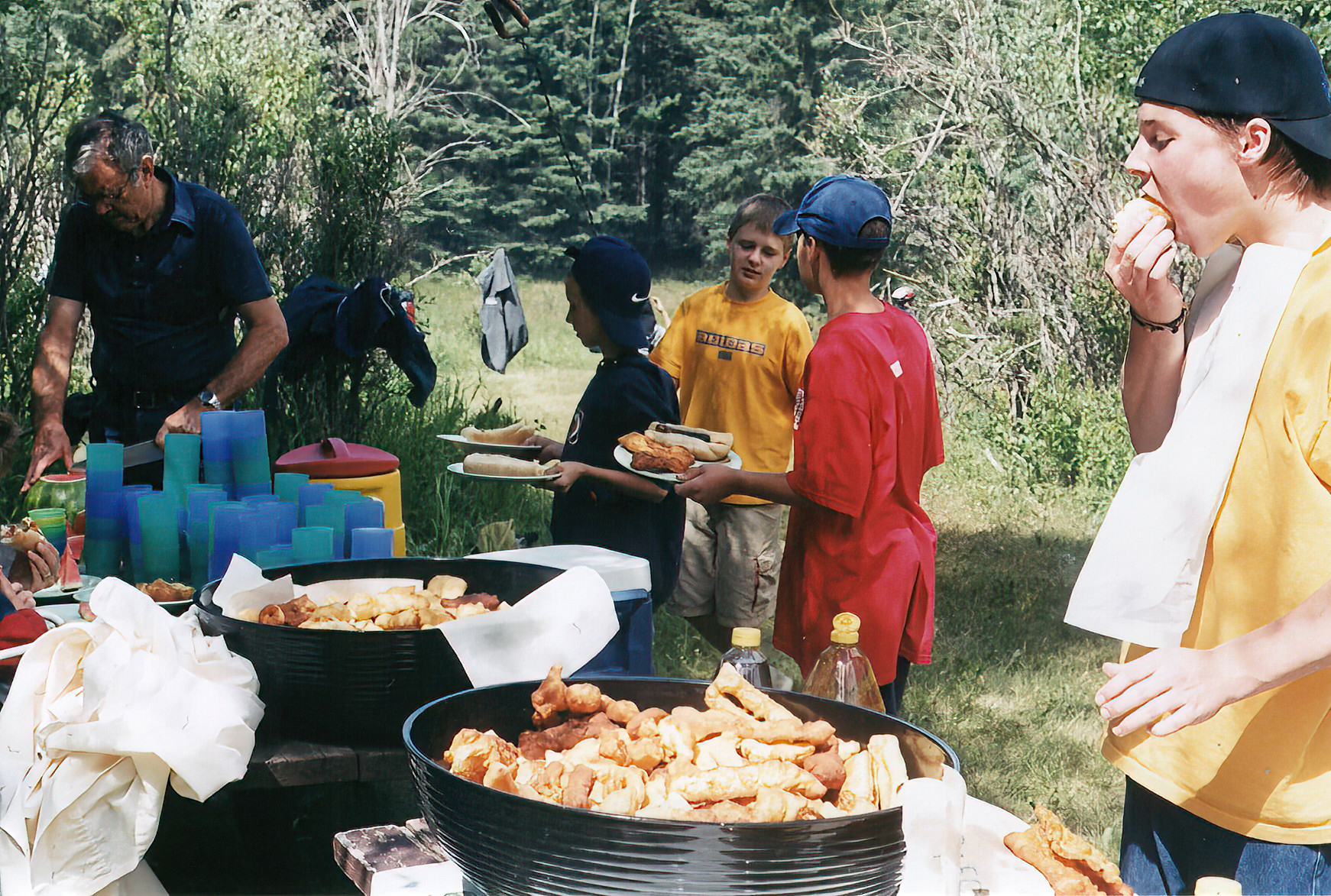 Rollkuchen!!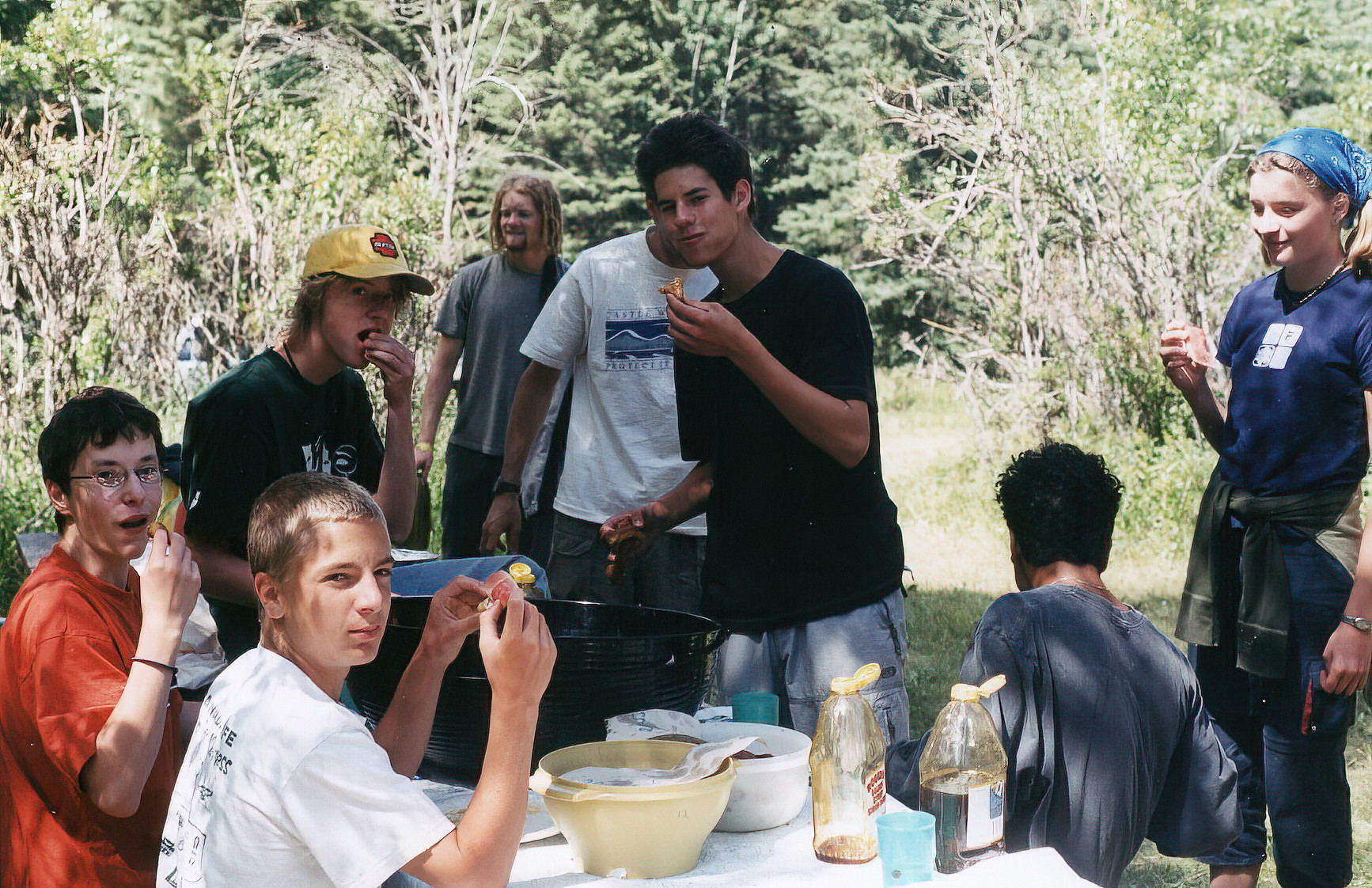 More rollkuchen!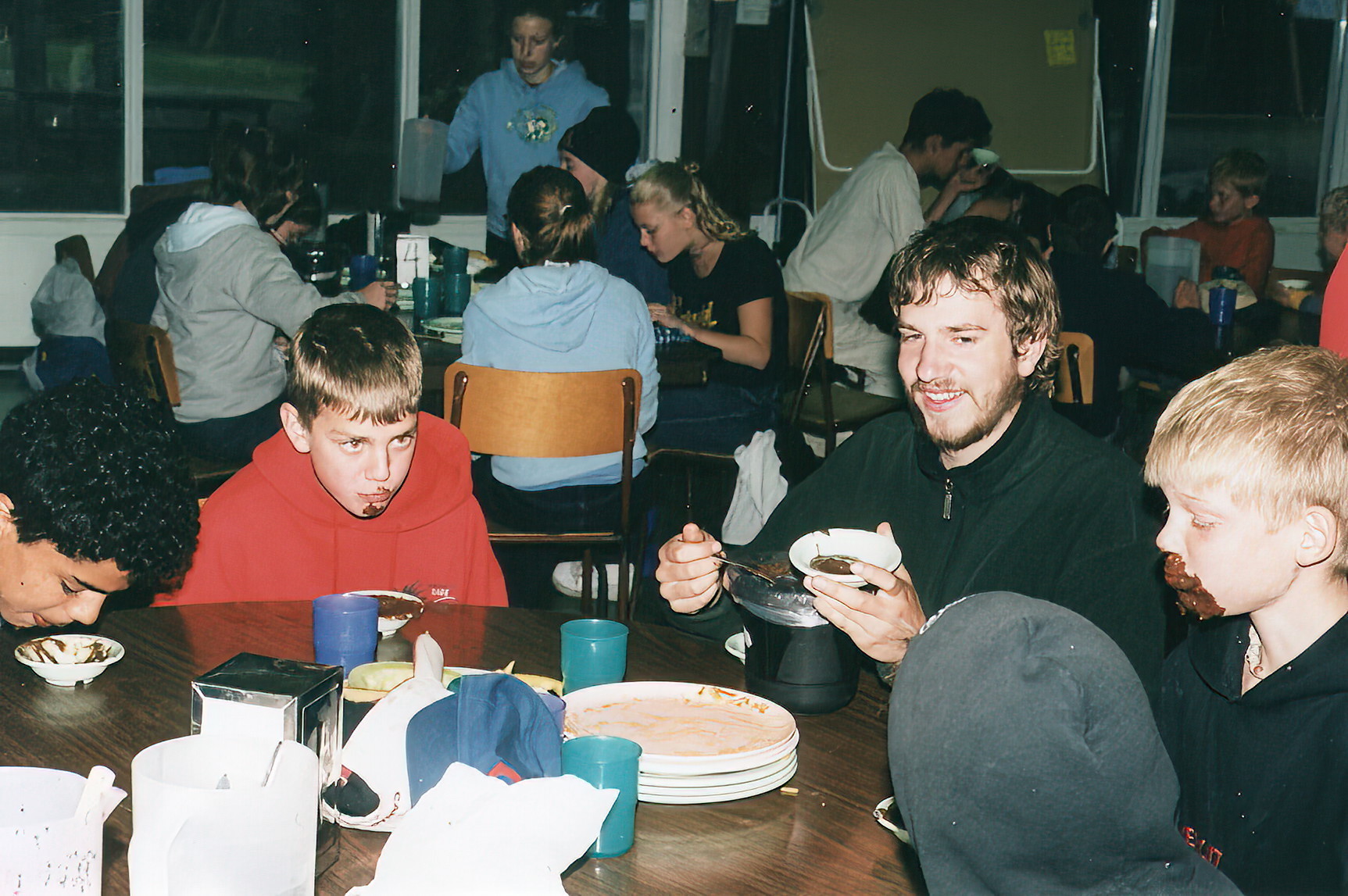 Pudding -- with or without gummy worms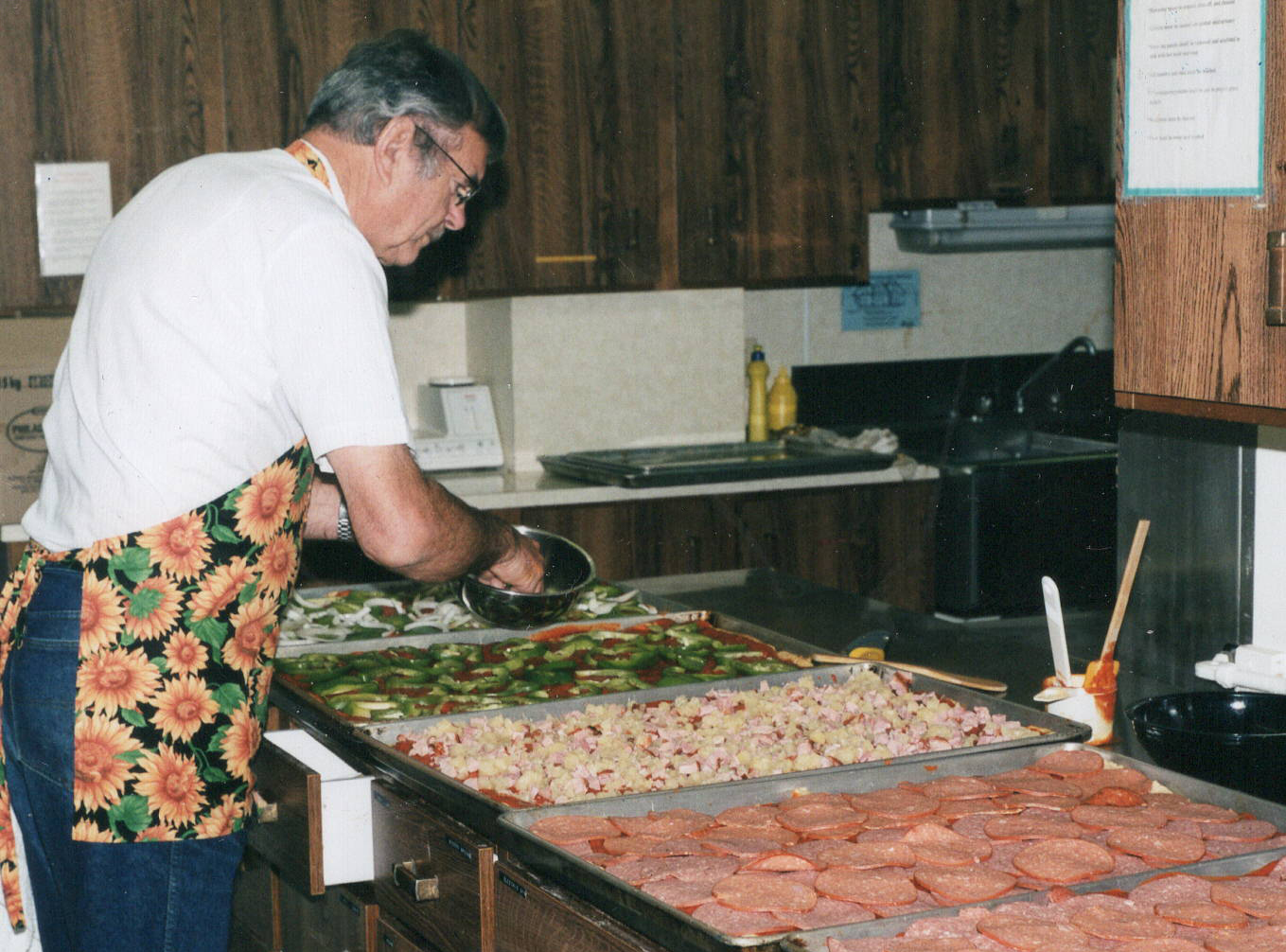 Henry Dick, pizza chef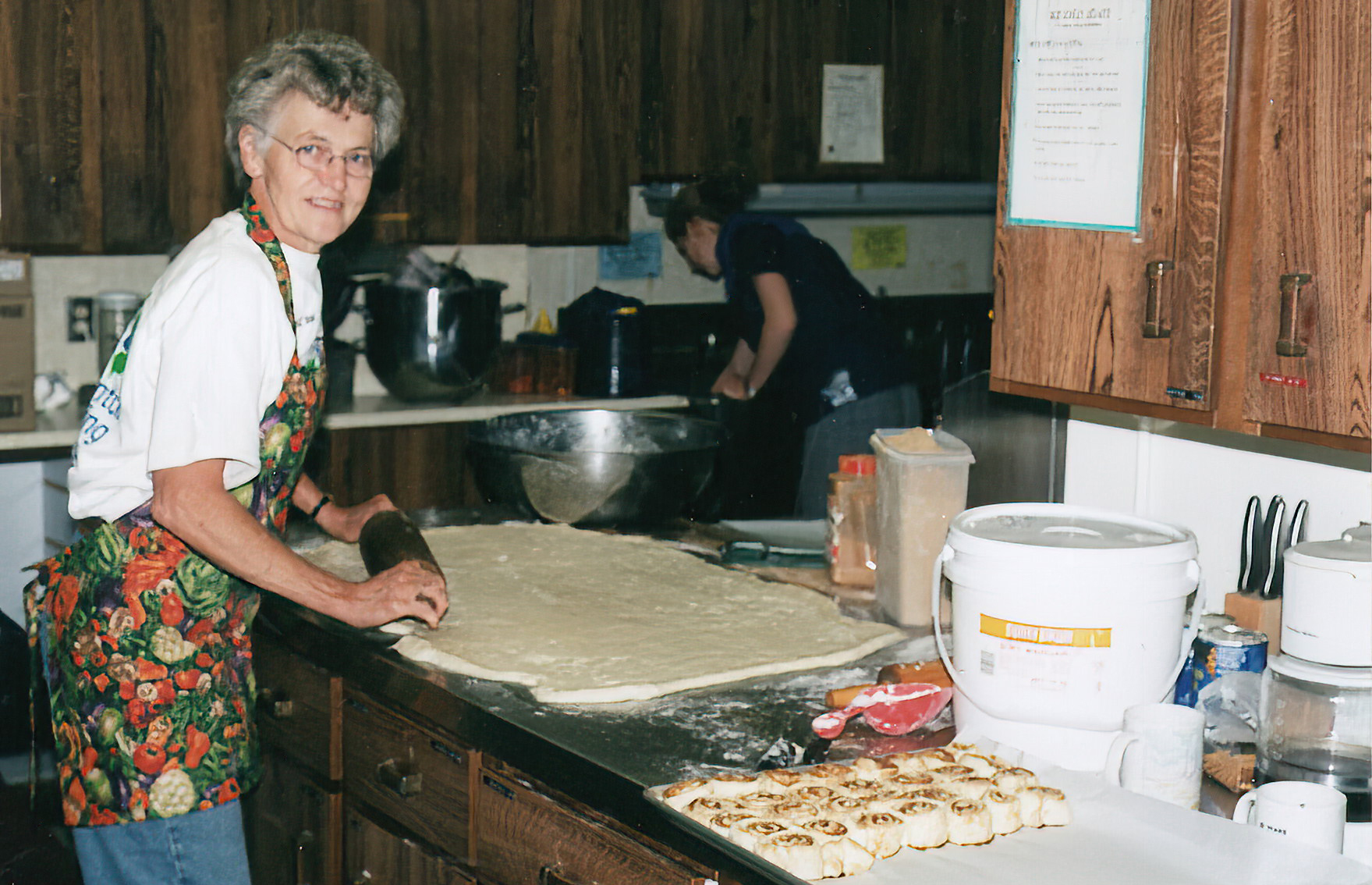 Frieda Dick making cinnamon buns. Yum!!