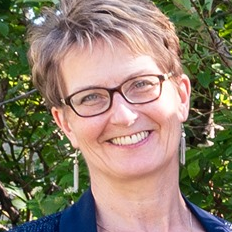 April 21st

Embrace

by Deb Baergen

To Embrace – to hold closely in one's arms – not something we can do with too many people these days, but when we can, there is a feeling of belonging, of connectedness. When we encounter people we may see them, hear them, even converse with them – but it is only when there is a special connectedness that we risk embracing them. This is what we are called to do with the stories of Jesus, not just read or hear them, but to enter into them, hold them close, to allow the messages of Jesus' life and ministry become an important part of who we are, so they can change us, influencing how we think and act.

During lent we have heard the story of Nicodemus who encountered Jesus in the night. At the end of their recorded conversation, we don't know whether it made any difference to Nicodemus. There is no evidence of whether or not he embraced Jesus' message.

We have also heard the story of the Samaritan woman at the well. She too encountered Jesus, but there is no doubt that that daytime encounter changed her. She embraced her understanding of what Jesus had said, left her water carrying duty behind, and ran and told everyone she met. Embracing Christ's message changed her, freeing her to spread the message to her townspeople.

I pray that we, too, maybe changed, by continuing to encounter and embrace the stories and words of Christ.