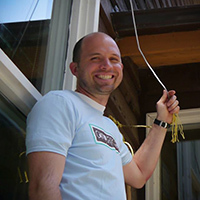 July 15th

Holy Ground

Take, take off your shoes. You're standing on my holy ground.

I've had this line from an old and mostly forgotten camp song bumping around my brain the last few days. Camp is a much quieter place this summer… eerily so. When we first announced that we would be unable to run camp programs this summer, we were overwhelmed with the response from camper families. So many people reached out to us to express support and appreciation, but the biggest and most profound emotion was grief. People were mourning the loss of the camp community that has helped to form and shape so many.

Just like everyone else we've had to adapt to this new reality. We have online staff gatherings, a physically distanced hike-a-thon, and a steady stream of volunteers coming out to help with the camp garden. In all of this the question lingers… what is camp without campers?

I've often heard people describe Valaqua as holy ground. Can this ground be holy when no church gathers here? It's enough to keep a guy up at night.

This last week we had a group of families book the facility to spend time together. It is the piece of an answer that so many of these people, many of whom have no connection to Valaqua, have come up to me to tell me how special this place is. The line "there is just something in the air…" caught my attention. So often this is my experience of the Holy Spirit; intangible, unnameable, but very much there.

Can Valaqua still be holy ground when there is no morning chapel, no laughter and shouts coming through the trees, no ring of the bell calling us to dine together? It still feels holy to me. Perhaps it is that the generations of holiness have soaked so thoroughly into the soil that it comes out in the trees. Perhaps it is the focus of so many prayers and care filled thoughts. Perhaps it is the promise of us meeting together here soon. Whatever it is, I find myself called to take off my shoes to celebrate this holy ground.