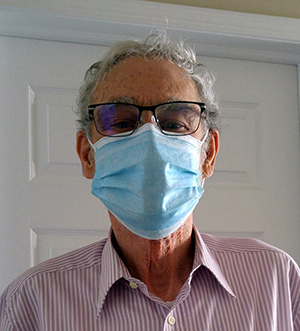 February 10th

Sometimes a Selfie is a Must
(a little Covid-time humour) 
It was a beautiful fall day with the colourful poplar trees shouting their unique golden yellow regalia that is so plentiful in Alberta. What better way to spend the day than to take a 15 kilometre bike adventure around the Glenmore Reservoir.
Plans had been carefully put together. After about 8 kilometres of cycling I would arrive at a juncture not far from a restaurant where I could sneak in for a luncheon hamburger.
With the scenery at its prime, I found myself almost effortlessly gliding my bike over the relatively easy trail. Occasionally leaves fluttered down, slowly carpeting the pathway with their elegance. Before long I arrived at the designated rest stop. With my mask on, as required, I quickly picked up the juicy hamburger and went outside, where I found a small iron-clad round table. Here I could relax in COVID-required-solitude.
I was about to leave, when I abruptly asked myself, "But where is my mask?"
Did I leave it on the washroom counter? – It wasn't there. Was it in my pocket, or in my backpack? – Not a trace of the light blue protective gear.
Now I was getting upset. I had hoped to go for a late afternoon coffee break after biking through a more hilly area with its challenges. I recalled the location of a neat coffee shop just a few minute drive off the beaten path. My commitment was to follow city regulations that required me to wear a mask whenever I entered an eating establishment. Frantically I searched the garbage can where I had tossed out my disposable cup and napkin. Nothing!
Eventually I decided not to allow this unanticipated annoyance take over. Soon I was on my way, enjoying the leisurely bike-pedalling, high above the bank of the waterway. The 3.84 square kilometre reservoir had been created by the construction of a dam on the meandering mountain-fed Elbow River. Completed in 1933 it continues to serve as a primary source of drinking water for the growing city of Calgary, and it controls flooding. In more recent years it has also become a treasured recreational park that I was now enjoying.
After a good half hour I decided to make a short detour that would take me over the Glenmore Trail thoroughfare, just where it spans the narrow section of the reservoir. Stopping at the middle of the overpass, I was amazed to see hundreds upon hundreds of cars and trucks whisking under me in rapid succession. The pace of life at this underpass with 160,000 vehicles per day whizzing by, a stark contrast to that of a leisurely bike ride, reminded me again of our speed-driven society.
"I'll take a quick photo of this busy scene, one that I don't even notice when I'm in the car, maneuvering 4 lanes of traffic each way – and I'll send it to Doreen (my wife) to give her a glimpse of my day. And why don't I take a selfie to show her how much I'm part of the scene?
With the roar of all the vehicles my camera clicked automatically to my voice-activated call to "Smile".
"Did I get a good picture? Let's see."
"O my goodness!" I began to smile, almost looking around to see if I could share my discovery – or could I say, my blunder.
There, neatly furrowed under my chin was the missing mask.
In addition to the humour of the whole thing, the rest of my journey that day took on a surprising contemplative metaphor that had so vividly been placed before me. Am I safely tucking away my small and big foibles, even forgetting about them? What do I think I am successfully hiding, while it's in full view and may so easily be detected by others? What do I need to unmask in my life? Maybe a few more selfies could be a good and revealing thing.