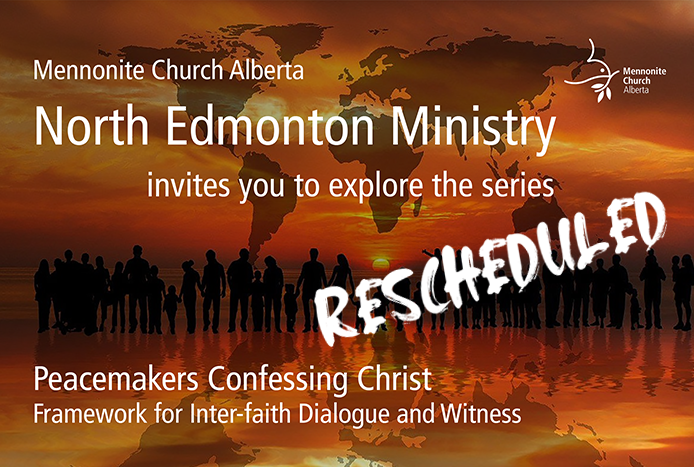 Wed Jan 26, 2022 - Wed Mar 2, 2022

Peacemakers Confessing Christ: Interfaith Framework
RESCHEDULED as a six-part weekly series beginning
Wednesday January 26 at 7:00 on ZOOM

As we begin our new year 2022, and given the continuing unpredictability of Covid 19, North Edmonton Ministries is offering the Peacemakers Confessing Christ Interfaith dialogue series as a 6-week Wednesday night ZOOM gathering. The PCCI series is structured to be part worship, part Bible study and part learning about Islam and relationship-building with Muslims.

We will meet weekly from 7:00-8:00, and look forward to building a virtual community among our Mennonite Church Alberta family.
Annual Delegate Sessions
on ZOOM
March 19 Delegate Sessions
March 20 Joint MCA Worship, hosted on zoom by First Mennonite Calgary
Gathering 2022
We welcome all from Mennonite Church Canada to Edmonton and Camp Valaqua!
We Declare: July 29 - August 1 Edmonton
Amplify: July 31 - August 4 Camp Valaqua