A Window into Foothills
Foothills Prayer Requests
Foothills is blessed to be part of the MCA community.

1. Praise and thanksgiving: Praise and thanksgiving for a community that has re-engaged after the major disruptions caused by the COVID-19 pandemic. By God's grace the congregation stayed connected through Zoom and the exceptional efforts of staff, the board and faithful participants. We are thankful for the first year of Bill Christieson's ministry as lead pastor, and anticipate growing together.

2. Wisdom and unity: Pray for wisdom as we discern and live out the mission of our congregation. We pray for unity as we navigate the complexity of being a welcoming and inclusive community.

3. Joy: We are a congregation that loves being together. Pray that we would find great joy in being community and serving God together.

The Foothills Story
Foothills Mennonite Church is located in northwest Calgary, Alberta. We worship together in a place which for generations has been cared for by the peoples of the Blackfoot Confederacy, Tsuut'ina First Nation and Stoney Nakoda Peoples, together with Métis Nation of Alberta Region 3. As our name suggests, we are in the foothills of the Rocky Mountains and we are grateful to live, work, play and worship in this place.

Foothills Mennonite Church began in 1956 as North Hill Mennonite Mission. It was a place for young, English-speaking Mennonites to worship and share life together. The first service was held in the basement of a family home on January 8, 1956 and ten years later, in 1966, the current building in the University Heights neighbourhood was completed and the congregation who worshiped there became Foothills Mennonite Church. Foothills remains an inter-generational congregation seeking to live out Anabaptist faith and practice and have a positive impact on the world around us.

The church building is an important gathering place. Since March 2020, Foothills has extended our welcome to worshippers through Zoom-hosted services. We are grateful for God's care and grace extended to and through one another in these times when we embrace what it means to be church. The church community gathers on Sunday mornings and through the week to build relationships, participate in discipleship and extend the ministry of the church into the world.

Foothills Mennonite Church is a welcoming and inclusive community, seeking to follow the biblical mandate to "do justice, love mercy and walk humbly with your God" (Micah 6:8). As members of Christ's church, we aspire to live in ways that foster peace and reconciliation.

Please come by for a visit. We are located just north of the Trans-Canada Highway in University Heights - 2115 Urbana Road NW. You are welcome here and we would love to connect with you. To connect online, please email office@foothillsmennonite.ca for information about online/in-person worship. You can also visit our website at www.foothillsmennonite.ca to read a bit more about us

The Foothills Video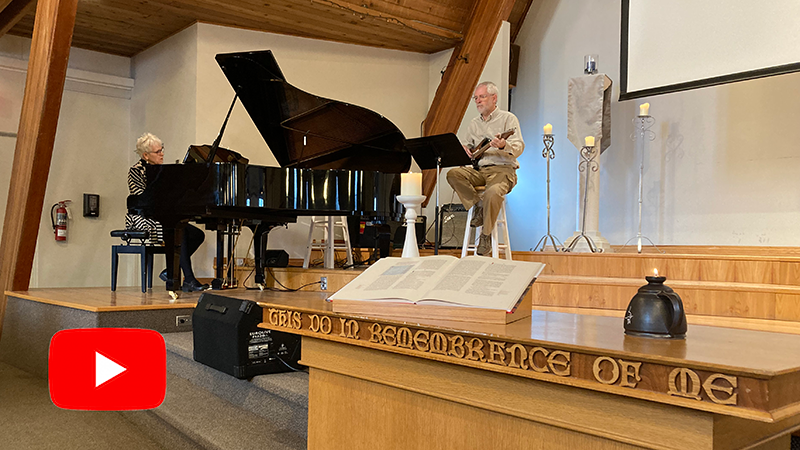 Foothills Interviews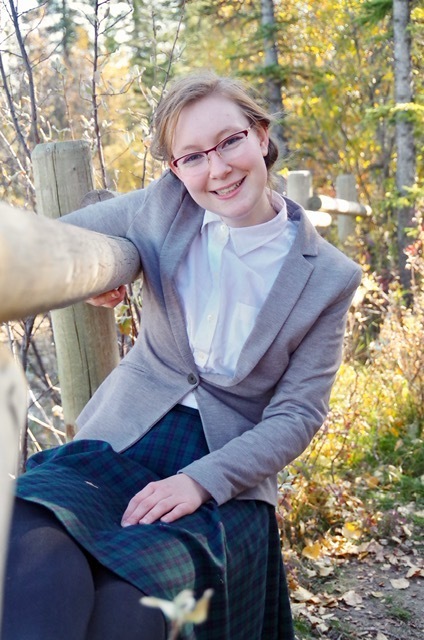 Meet 25-year-old Leona Sudom, who began attending Foothills Mennonite Church in September 2022.
What brought her there? Well, during Covid, Leona began to feel very disillusioned with what she was experiencing at church. She longed to experience and participate more fully in God's justice and reconciliatory work but felt stifled at every turn.
This disillusionment led her to search for a place where she could belong. A place "committed to truth" in their sermons, songs, and lives, where she could experience intimacy and connection while also being empowered to live out her faith and convictions. This search that led her to Foothills.
Before visiting Foothills, Leona checked out the Foothills website, and was drawn to the statement, "we are a welcoming and inclusive community, seeking to follow the biblical mandate to 'do justice, love mercy, and walk humbly with your God (Micah 6:8)'. She mentioned that she was very impressed with the website, and the way they lay out "what to expect." This helped her to feel at ease, and so she decided to pay Foothills a visit.
When she arrived, one of the members, Charlotte, gathered some of the other young adults to go sit with her. Leona is very grateful for this, as it helped her feel noticed and welcomed. She has remained connected to the young adult community in Foothills since.
Leona has come to see that this experience was not a one-off experience, but rather it is a part of who Foothills is as a community. She has felt quickly received, and now describes Foothills as authentic, welcoming, inclusive, and open. It is, as she says, a congregation that acts with integrity and is committed to the work involved in Christ's ministry of reconciliation. These qualities have kept her there, and she looks forward to continuing to get to know people at Foothills.
Interview by Steven Giugovaz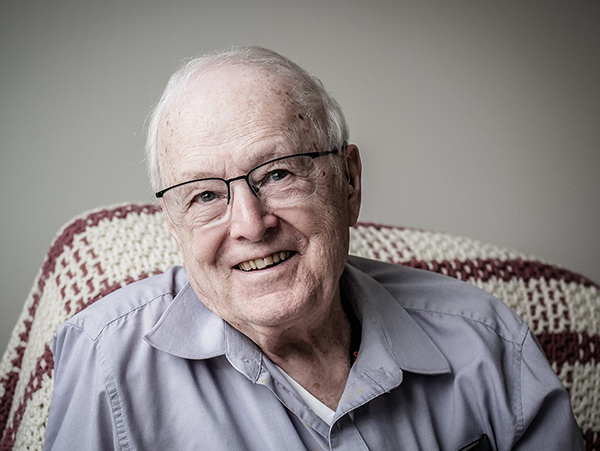 Erwin Strempler and his late wife Maggie moved from Manitoba to Calgary in 1997. Both were experiencing health issues and so they wanted to live closer to their adult children. At that time, their children attended Foothills and so they joined with them.
Erwin brings a wealth of life and ministry experience to Foothills. He came to Canada, from Germany in 1952, as a 17-year-old, having been a war refugee for 7 years. Recent images of Ukraine have brought back those memories.
Although his schooling had been interrupted by the war, he went back to school in Manitoba and before he was even finished high school, he was teaching lower grades. He continued on and became a teacher, a guidance counsellor, a principal, an ordained minister, an interim minister, and for a time was the editor of the German newspaper, Der Bote. Being fluent in the German language gave him an open door to ministry with German-speaking immigrants from Paraguay.He continued to serve at Foothills – worship leading, teaching Sunday School, as well as some preaching and officiating at communion and funerals. He continues to write a weekly meditation for seniors and others. Prior to Covid, his gift for pastoral visitation made him a key member of the pastoral team.
Erwin laments that his family is no longer part of the Foothills community. His son moved and his daughters and their families attend elsewhere. Prior to Covid, he would join his children and grandchildren at their church on Saturdays and then be in his usual place at Foothills on Sundays. This practice has yet to resume.
Erwin is hard of hearing and appreciates the accommodations for his disability and marvels at how technology has made such a difference in his life. He describes Foothills as a very friendly church. "I have so many friends there."
Interview by Ruth Bergen Braun
Get to know them by checking out their Facebook page, their website, by reviewing their MCA history, and by re-reading their story in Our Stories.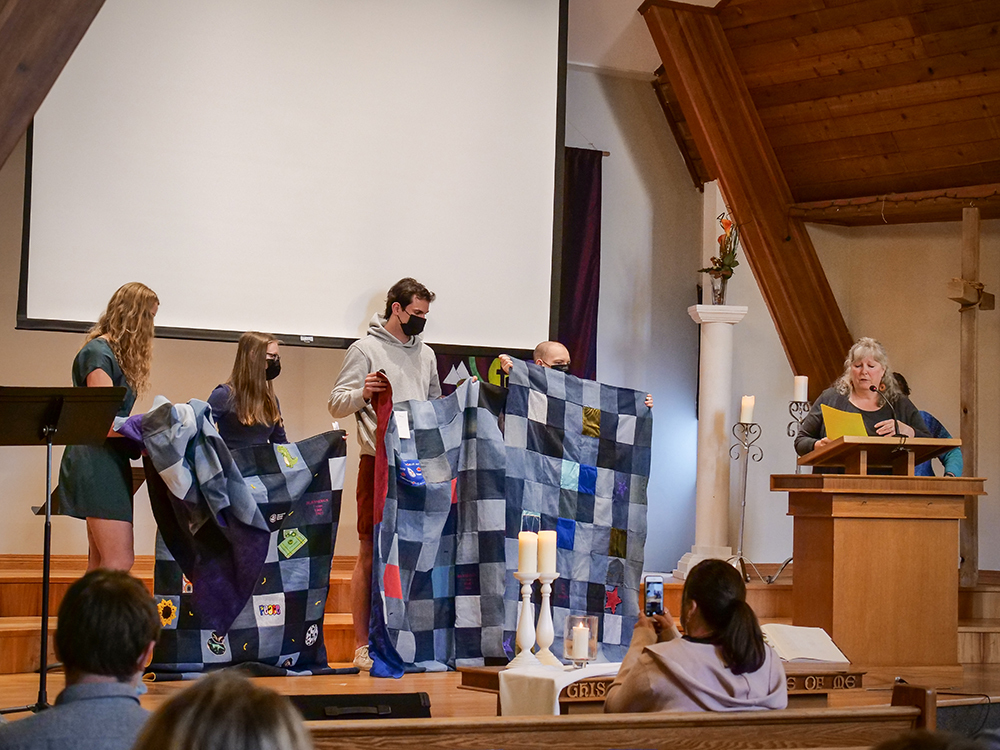 Denim blankets for graduates, a Foothills tradition!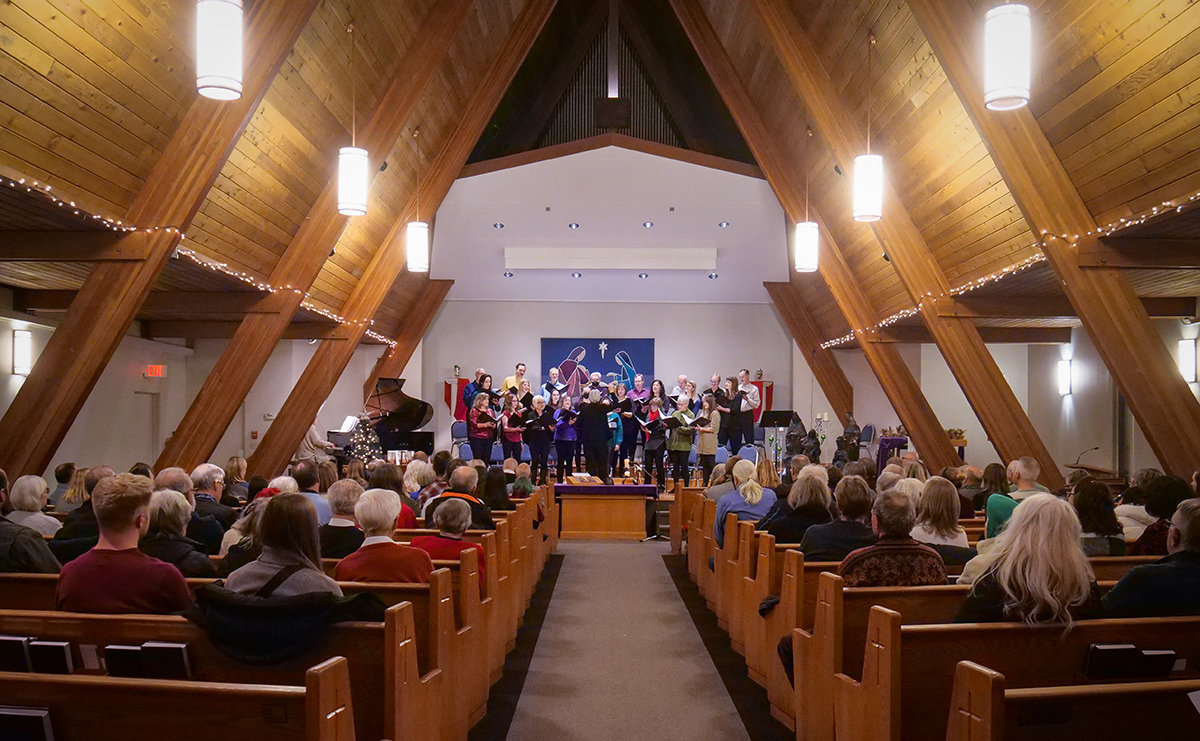 December 2022 Choir Program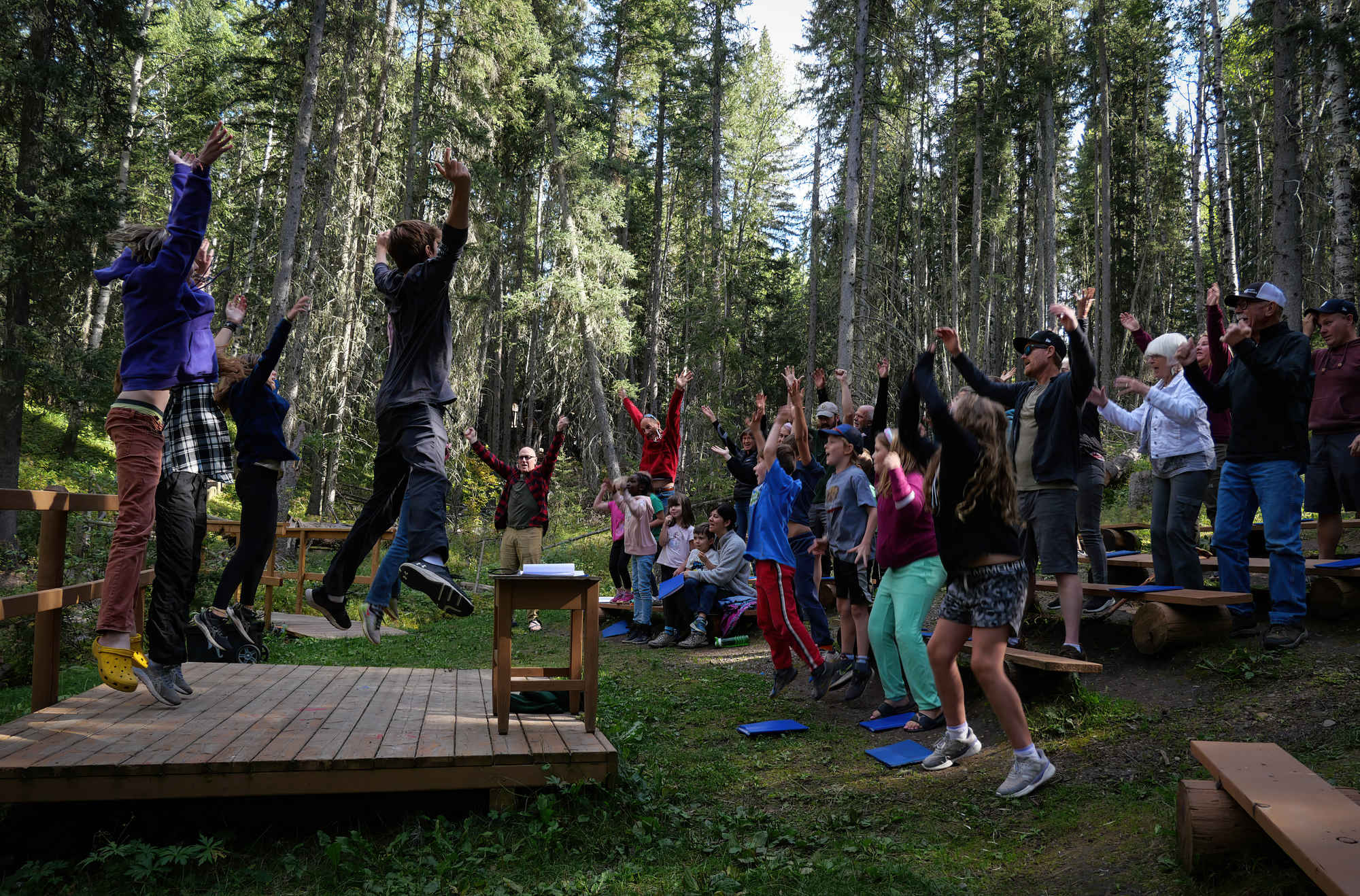 September 2022 Foothills Retreat at Camp Valaqua