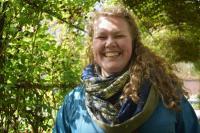 May 13th

Rebecca Janzen on Sundays@CMU

On April 26, MCA's Rebecca Janzen was featured in CMUs weekly radio spot series "Sundays@CMU." During the month of April, three CMU 2020 graduates were asked about their experiences over the past few years and what's next.

Sunday@CMU is a 15-minute radio program that features biblical meditations from current and emeritus professors, music from CMU ensembles and choirs, and interviews with faculty, staff, students, and alumni. Hosted and Produced by Nicolien Klassen-Wiebe, the show airs on Golden West Radio station in Manitoba on Sunday mornings.

Rebecca is one of five Global Youth Summit (GYS) representatives appointed by Mennonite Church Canada to attend GYS and the Mennonite World Conference in 2021. She is a past recipient of MCA student bursary and member of First Mennonite Church in Edmonton. And most recently she will be hosting of the new Young Adult six-week discussion group, beginning May 24.