Trinity Mennonite Church
Trinity Mennonite Church invites us to pray for them
Pray for vision and divine guidance as the congregation discerns a way forward in a time of change
Pray for Pastor Will and his family as he transitions out of pastoral ministry
Pray for a number of families who are mourning the loss of a loved one recently
Pray for a time of rest and recreation over the summer
The Trinity Story
Trinity Mennonite Church represents an interesting mix of people. We are a collection of generations, nationalities, and political identities.
A few recent funerals have meant the end of the era where we had a connection to Mennonite colonial life in Ukraine. When we had living memory of that part of Mennonite history within the congregation, it impacted the stories we told, the songs we sang, and the food we ate at potlucks. We will miss those people. We also miss that era and the strength of that connection.
While that connection still exists, it is more distant. The settlers are no longer with us, but their children will continue to tell those stories, we will all continue to cook and eat those meals, and as a congregation, we will continue to sing those songs.
Our varied backgrounds mean we have a mix of ways of being involved. Our congregation has regularly had members working on Mennonite Disaster Service worksites, working behind the scenes at Mennonite Central Committee, local food banks, school boards, and other community groups.
A connection that we have in common as a congregation is our support for the work of Mennonite Church Canada Witness in Thailand. Tom and Christine Poovong were once an ambitious and passionate couple in our church, and they had a vision to serve the church in their country of origin. Through our national connections, we explored the possibility of a partnership in Thailand, went through the steps, and soon they were on their way to help plant churches, empower small business leaders, and build community there. Our church was with them on their church from day one. Our pastor Will Loewen traveled out to support them as they got started. A group of church members visited them on an MC Canada learning tour. We have received them on their return trips and followed their story attentively as they work.
Another couple from our church, who also have a history in that part of the world, have also gone out recently to support Tom and Christine's ministry. After a miraculous recovery from covid, Paul Phomsouvanh felt strongly that God was calling him to bring the message of Jesus to the people of Thailand and Laos. Partnering with Mennonite Church Canada Witness and Tom and Christine, Paul and his wife Vila travelled to Thailand and Laos where they trained pastors, equipped congregational leaders, and deepened the connections of the growing Mennonite inspired network of churches there. That work has also continued in their return as they have been helping to coordinate the translation of important church resources. This network is also helping to distribute the recently translated "Anabaptist Essentials" among their congregations also.
This side of the ocean, the road ahead for Trinity is unclear with the resignation of our pastor. Will Loewen has served our congregation for thirteen years, and much has changed during that time. Much discernment is ahead, both for him and his family and also for us as a congregation.
The Trinity Interview -- Lois Epp
Lois and her (late) husband Henry have been part of the Trinity Mennonite congregation since 1996, nearly 27 years. When they moved to Calgary, Trinity was the closest Mennonite church to where they were living. The congregation was immediately attractive to Henry and Lois as Trinity included people from a variety of backgrounds within the Mennonite community. At that time, Trinity was renting space from Covenant Christian Reformed Church in Millrise. Later, Trinity met at Menno Simons Christian School while their current building was built.
Trinity quickly became their church home as it was, more than anything else, a church committed to the basics of the Christian faith. This foundation includes regular Biblical study. Lois explained that she appreciates how the church has functioned over time. Regardless of circumstances, Trinity always returns to their foundational core values of faith.
Lois described one aspect of the character of the church as "being able to adjust to circumstance and change — while still recognizing and dealing with human concerns." Trinity gladly accepts and integrates new people as they arrive. This easy acceptance enabled Trinity in becoming a multicultural congregation with both grace and joy. At one point in their history, Trinity included a Korean congregation and now a number of Thai families call Trinity home. Although members have come and gone, the church has always had a strong core group.
As with all congregations, post-Covid Trinity has reconfigured and reinvented how it creates spaces for congregants to build connection with each other. There are coffees, potlucks, Sunday School, adult class, seniors activities and social gatherings. One surprising benefit of Covid has been how technology is now used by congregations. Trinity teams now often meet on Zoom, making volunteering easier, and Trinity assertively live streams its services and events such as funerals.
Lois appreciates that her congregation genuinely cares for individuals, especially when the congregation knows of difficult circumstances. People reach out! She noted that Trinity funerals in particular, but other services as well, reflect positively on Christianity as a whole. Churched and non-churched people alike find the services to be positive experiences. And for all this, she is grateful. Interview by Ruth Bergen Braun
The Trinity Video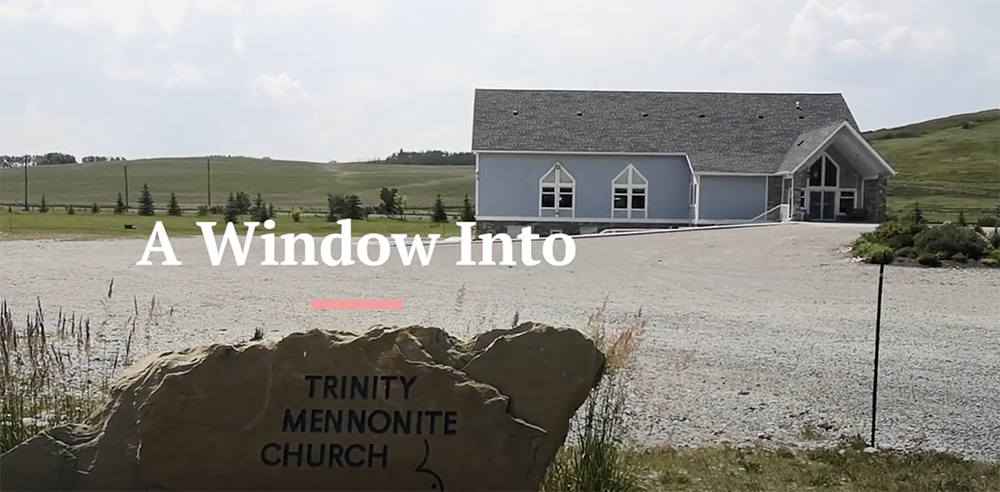 Click the image or HERE.
A few photos of Trinity Mennonite Church
Beautiful in summer.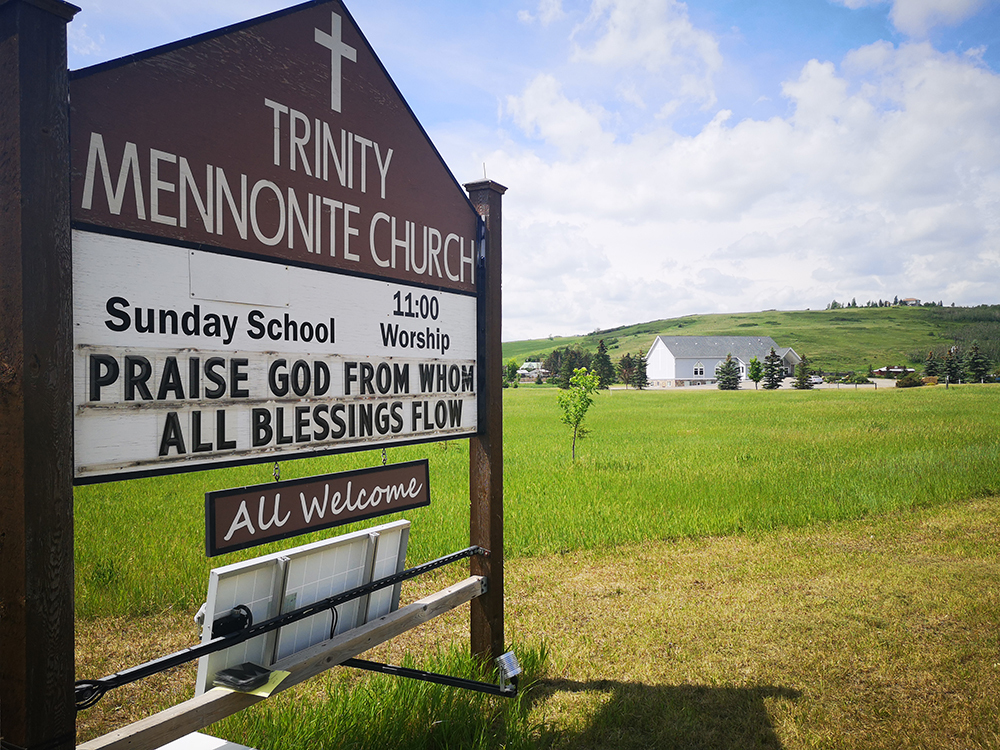 But also in winter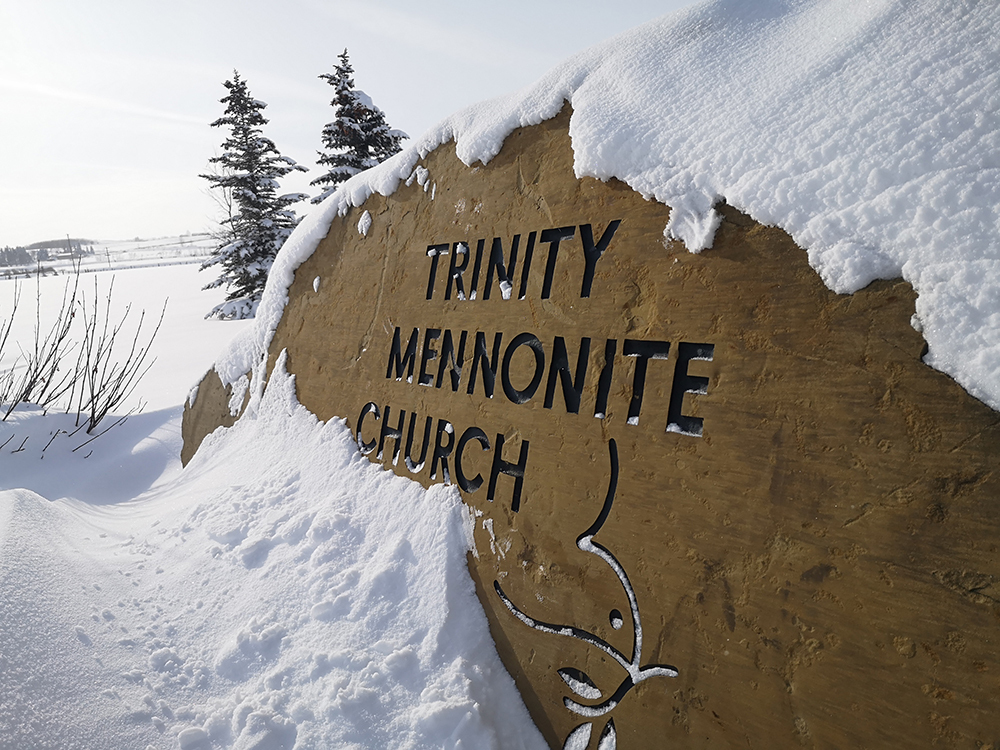 To get to know Trinity, check out their website and read (or re-read) their MCA history or from their website HERE. Trinity also has Instagram.
Watch this space for more from Trinity Mennonite Church!