Calgary Chin Christian Church
Calgary Chin Christian Church invites us to pray for them
1) Spiritual growth: Pray for the church member can grow in their spiritual life and always put God as their priority in life.
2) Youth ministry & revival: Our youth is our strength. Pray for all our youth are love being in a church and enjoy worshipping. Pray for the wisdom of our youth and you'll become a true worshiper and they can lead us.
3) Unity and companionship: Pray for all church members that have unity in Christ as one body and more develop in love, understanding and develop forgiveness for each other.
Get to know them by visiting their website, reading (or re-reading) their history and their story in Our Stories.
The Story of Calgary Chin Christian Church
Chin Church is made up of Chin people, a Southeast Asian ethnic group from Chin State, Myanmar. The Chin people came through many difficulties to get here in Canada and how God has guided us was unbelievable. The church started in June 2010 in a church member's basement, with volunteers teaching songs and Bible verses to children. In January 2011, the congregation was established and joined the Mennonite Church in Alberta in March 2013. On Sunday, March 14, 2021, Chin Church officially opened its new building, in addition to marking its 10th anniversary as a congregation. The Chin Church has been blessed every moment since we were established in 2011. In the last 12 years, the Chin church has experienced many spiritual and physical activities such as action Bible School, crusades, retreats, joint worship services, confession training, bible studies, and leadership training. 90% percent of our youths attend church regularly and are actively involved in church activities.
Every year, many dedicated speakers from locally and internationally come to visit our church and delivered the word of God. Some of the youth actively worship with their musical talents. The women's group regularly spends the entire Saturday prayer gathering, sharing their daily experiences, happiness, and sorrows, and praying for various agendas at church. I strongly believe the women's prayers made our church stronger, more faithful and with fewer worries. The church marks Thursday as a prayer night and, we have a youth service night twice a month on Saturday night. We want to express our sincere gratitude to all of you for your support and prayers for Chin Church. It reminds us that we are not strangers, we are not alone, and our worship is more secure and comfortable than before. Let's keep remembering to pray for each other to become more faithful servants and grow in kindness among our neighbours. I hope God's blessings are constantly flowing, not only for the Chin Church but also for everyone and let's thank God with our hearts.
The Chin Church Interview
I had the delightful pleasure of conducting a phone interview with Grace Van Lal Mawi. Grace, who uses her Chin name of Van, is a young adult at the Chin Mennonite Church in Calgary. She arrived in Canada 3 years and 4 months ago, and found the Chin Mennonite Church quickly, as her uncle is the pastor. Van's mother is also in Canada. She has no siblings but has a cat! Van speaks four languages: Chin, Burmese, English, and Hindu. She is currently working as a Medical Office Assistant in Calgary. Van was baptized at the Delhi Burmese Christian Fellowship Church in New Delhi, India. Her faith in Jesus is very strong and extremely important to her. She wants to live this out by encouraging others in their faith and in their worship of God, helping them to become closer to God. At Chin Mennonite Church Van does this by being a Praise and Worship leader, singing in the choir, and teaching the intermediate Sunday School class. Van's best friend also attends the Chin Mennonite Church, and they lead worship together. Van volunteers in other places, living out her faith in service to others. She says, "I love worshipping God in all ways! I want to encourage others to be disciples of Jesus, the Living Hope." It is hopeful for the Christian faith and for Mennonite Church Alberta to have such a dynamic young adult participating in and living out the faith in our midst! Praise be to God.
Interview by Adela Wedler, First Mennonite, Edmonton
A few photos from Calgary Chin Christian Church
Pastor Leng Nawn Thang preaching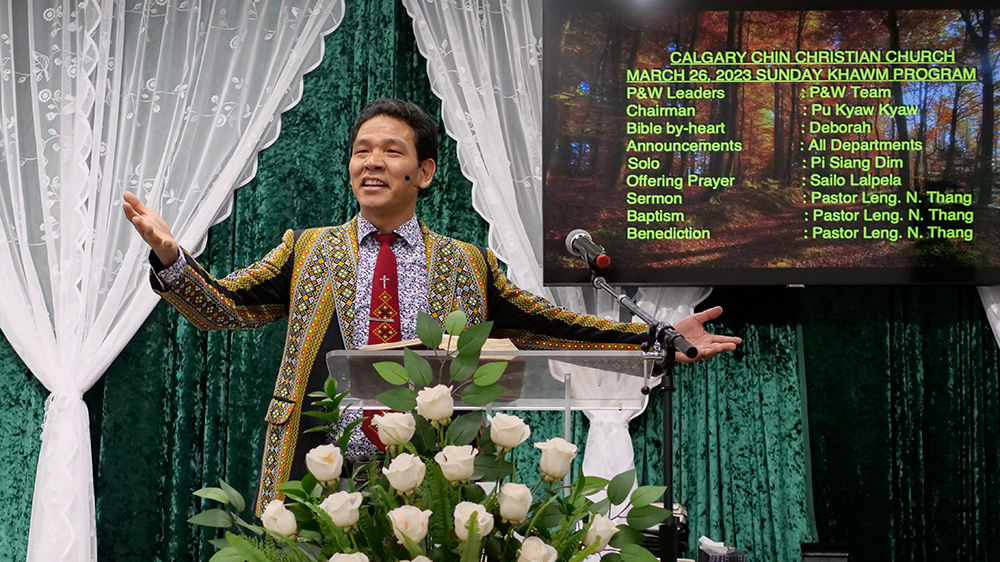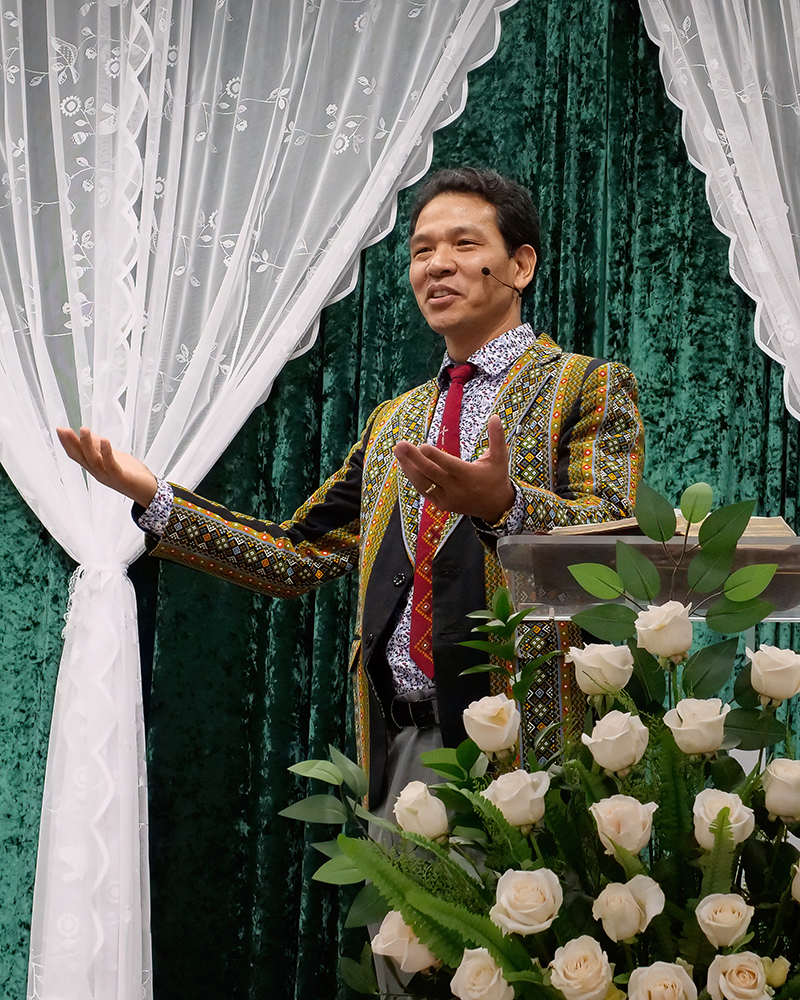 The worship team

A special birthday!

Videos from the March 26 Baptism