A Window into Springridge
Springridge Mennonite Church, Pincher Creek AB
The Springridge Video
Springridge Interviews


Corilee:
When Tany Warkentin, Springridge Pastoral Leader invited members of Springridge to volunteer to be interviewed, Coralie Edwards was quick to offer to tell her story.
In a phone interview, she shared that she had moved to Pincher Creek about 8 years ago. She had been raised in Taber, Alberta, growing up in the Mormon faith. She had struggled with the Mormon church for a while, somewhat because she was a single woman and their culture emphasized families. For a time she didn't attend anywhere.
She now lives in a seniors community in the town of Pincher Creek. A few years ago, she mentioned to her friend, Ron Janzen, that she'd like to be part of a church again and he said "why don't you come with me?" And she did. She began attending Springridge Mennonite. She said that "it felt like I was going home." Her voice carried a smile when she spoke of what a great guy Ron is — she certainly knew of his stellar fundraising efforts for Camp Valaqua!
Coralie repeated the word home multiple times in our conversation. Springridge is home. She loves the feeling of walking in, a feeling of peace and calm. She continues to attend because she loves the people there. In her opinion, "there is nothing phoney about Springridge people." The fact that many are farmers or retired farmers adds to her sense of this being a good fit, a comfortable community. These people "accepted me for me."
Coralie has volunteered in the kitchen at Camp Valaqua and plans to do so again this summer. While at Camp she has met others from Mennonite Church Alberta and so she's happy to be featured in this Window into Springridge.
Interview by Ruth Bergen Braun
Jason:
The moment Jason Marten heard there was an opportunity to share about his experience at Springridge Mennonite Church, he jumped at the opportunity to open a window into the church he now calls "home."

Now 40, Jason recalled his parents starting to attend Springridge when he was a child, however, he would leave the congregation when he was a youth. For years, he had no real desire to reconnect with a church, but that all changed when his daughter was born. At first, he wrestled with this feeling, but eventually, he made the decision to start by visiting to the church he grew up in. This was about 6-7 years ago, and he has not looked back since.

Unsure of what kind of reception he would receive, he was understandably nervous, but those nerves quickly dissipated amidst the sincere welcome and hospitality he received from the moment he walked in the doors. According to Jason, from the moment he entered the building, he was met with "open arms", and the words, "welcome home."


From that day forward, Springridge has been his "home", and he is so grateful he made the decision to go back. Jason says he has gone through many difficult times since being back, but he never felt alone. Through it all, his Springridge family has been his most dependable and greatest support.

His greatest hope for his Springridge family is that more people from the community, especially, young people, would come visit them so they could experience the same love and welcome that he has!
Interview by Steven Giugovaz
---
The Springridge Story
The Springridge Mennonite group began meeting 94 years ago in members' houses. Six years later, they bought a partially-burned hotel for $300, disassembled it, and used the boards and nails to build their own church sanctuary 30 km east of Pincher Creek. Today, our small white church building still stands, surrounded by barley and canola fields in the foothills of southern Alberta.
While many members of Springridge were farmers in past generations, most are now retired. All but a handful have moved from their farms into town. On a typical Sunday, we have 25-30 people worshipping together. In the past, our group has been led by half-time pastors, but for the last three years we have adjusted to a different model. In calling a local member to serve as pastoral leader in all roles except preaching, we look to the larger church for our sermons. We invite guest speakers once or twice a month, borrowing video sermons from other congregations for the remaining weeks. This has brought refreshing variety to our Sunday services by providing us with inspiring sermons and challenging material with which to wrestle during our adult Sunday School discussions.
As a small and aging congregation, we must be careful not to overextend our limited energy. We are energized when we prioritize community building. We worship together and share potlucks, support members through challenges, take turns sharing our "life stories", and together discuss relevant issues such as: how we view God, following Christ's radical example, aging and death, Sabbath living, and embracing gratitude and hope. Every two years, we host a pig roast to foster community with neighbours in our area. Programmatically, we have decreased our activities to a minimum, with one joint children's Sunday School class and no mid-week programs. Yet we connect more often informally, with a coffee group that meets daily, women that meet to quilt or walk together, church-wide game nights, and summer wiener roasts.
Our congregation has witnessed God's goodness and faithful provision, which has brought us hope and joy. We feel blessed by the active involvement of each of our church members, as well as the support and unity we feel in being a part of the larger Mennonite Church. Shalom!

Photo taken at Springridge's 90th Anniversary Celebration.
---
Springridge Prayer Requests
1. In this past year, a number of our congregation have been touched by the death of loved ones. Pray that God's comforting hand may be felt by those mourning these losses.
2. At the same time, we thank God for the signs of hope we have seen in the past year... members who have recovered from illness, babies added to our extended families, thought-provoking Sunday School discussions and meaningful ways of connecting within our church community.
3. As we begin 2023, we review the our involvements and ministries from the past year, and look forward to planning for the future. Pray that God will guide us as we seek to do God's will in this New Year, and that God will give us wisdom during our AGM later in January.
Get to know them by checking out their Facebook page, reviewing their MCA history, and re-reading their story in Our Stories.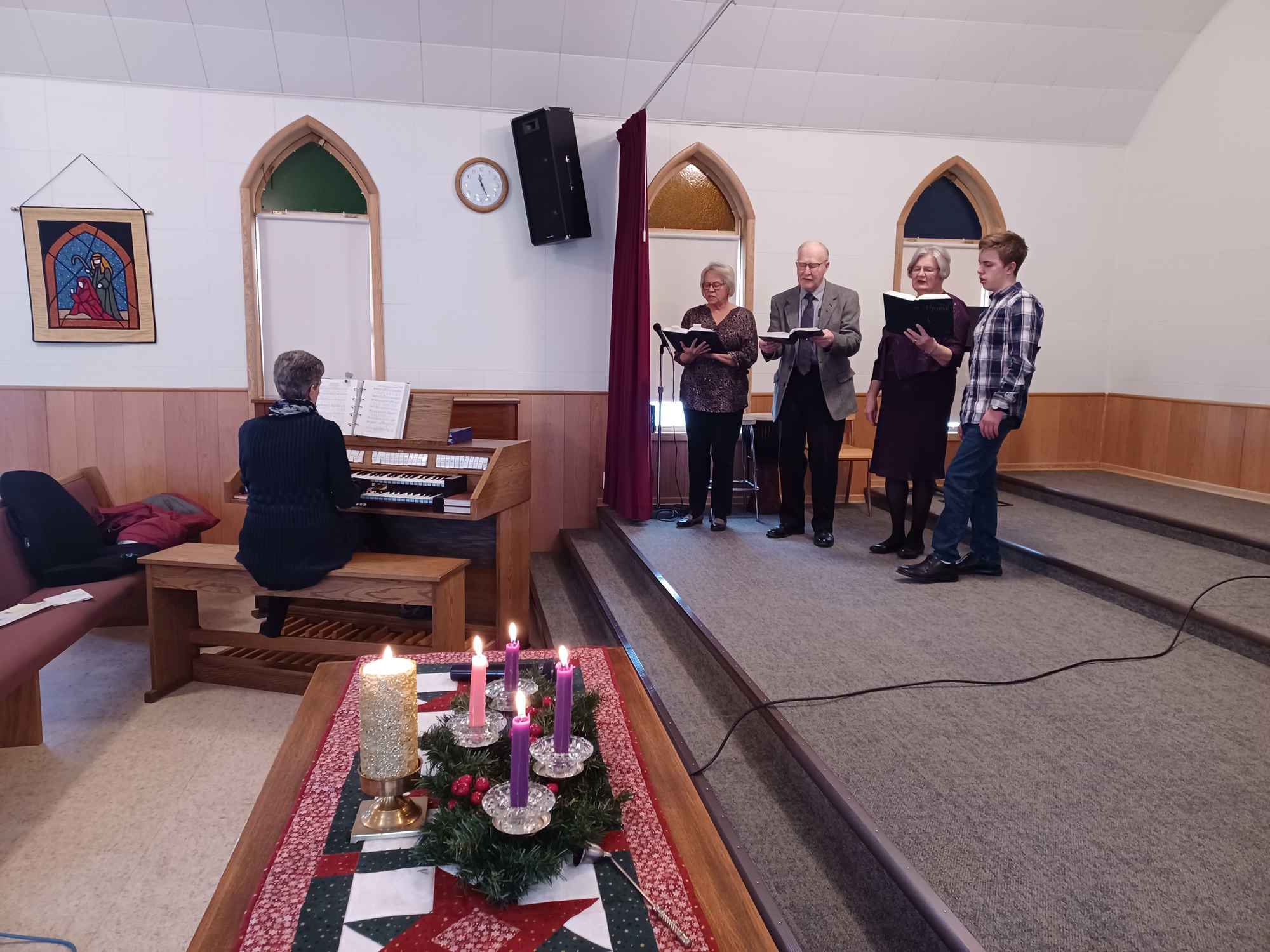 Christmas at Springridge.